Ukrainian President Volodymyr Zelensky has called on former President Donald Trump to share details of a "fair deal" he promised to broker between Ukraine and Russia when he is re-elected to the White House next year.
Zelensky spoke with CNN's Wolf Blitzer after speaking to the United Nations General Assembly in New York on Tuesday, where the Ukrainian leader warned, If Russian President Vladimir Putin's aggression against Kiev could be turned into a 'weapon' against the rest of the world, not included, report New York Times. Zelenskiy's speech comes as the war in Ukraine approaches its 19th month and comes at a critical moment in Kiev's counteroffensive to regain territory occupied by Moscow.
In his conversation with Blitzer, Zelensky was asked about his reaction to Trump's comments Sunday on NBC News, where the former president spoke with host Kristen Weill Gram sat down to discuss a wide range of topics, including the war in Ukraine. Trump asserted to Welker that if he were elected president, he would be able to end the conflict and find "a deal that's fair to everyone."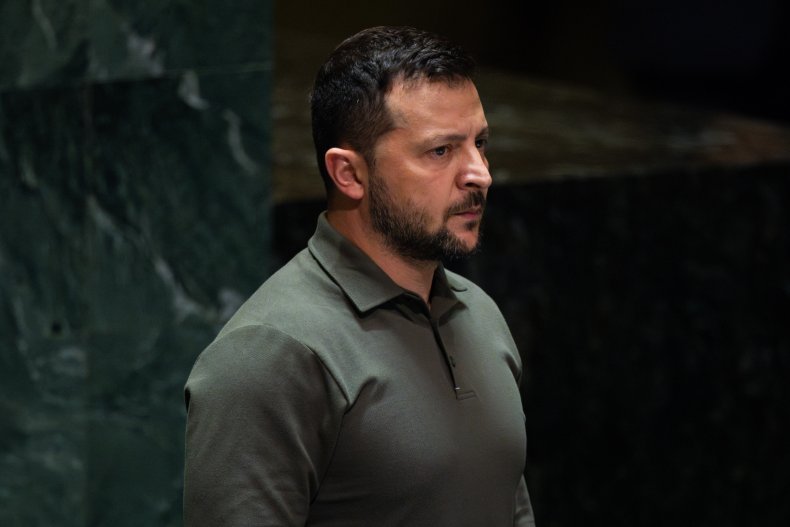 "First of all, I haven't seen any details," Zelensky told CNN, according to a translation of the interview. "Of course, the election is still a year away. If he has some smart ideas, of course he can work with We share. Obviously, we need a strong position."
"He can now share his ideas publicly, without wasting time, without losing people, and say, 'My plan is to stop the war, stop all these tragedies, stop Russian aggression,'" Zelensky continued. "He said how he saw this, how to drive Russia out of our land. Otherwise, he was not proposing the idea of ​​global peace."
The Ukrainian leader added: "So if our idea is how to seize part of our territory and give it to Putin, then this is not a peace solution."
Trump has repeatedly claimed that he could end the war in Ukraine in "24 hours" and vowed that Putin would never launch a full-scale invasion if Trump was still in office. In the interview, Welker pressed the former president on whether he would allow Putin to keep Ukrainian territory he illegally annexed in order to stop fighting between the two sides. Trump denies this is part of his plan.
Asked whether a fair deal would also mean a "victory for Putin," Trump said it was something that "could have been negotiated."
"Because of some areas in Crimea and other parts of the country, a lot of people expected that might happen," Trump told Welker. "You could have made a deal. So to be honest, they could have made a deal in There is currently an agreement on less territory than Russia has already occupied."
Trump also told Welker that when it comes to choosing sides on the war, "I'm on the side where people stop getting killed."
Zelensky has vowed that the war will not end unless the Crimean peninsula, which was annexed by Putin in 2014, is returned to Kiev's control. Neither country has signaled a willingness to discuss a peace treaty anytime soon, and Putin recently suggested he was ready for a protracted war in Ukraine.
Weekly newspaper An email was sent to Trump's press team Tuesday night seeking comment.