A special legislative session at the Tennessee State Capitol ended in chaos on Tuesday, with an apparent physical altercation between House Speaker Cameron Sexton and state Rep. Justin Pearson.
Republican Tennessee Gov. Bill Lee convened a meeting of the state House of Representatives to discuss public safety amid the Covenant School shooting that killed six people in March. But several days of hearings were filled with high tension and ended with the Republican-dominated House failing to pass legislation related to gun reform.
Video taken after Tuesday's recess showed members of the public chanting "vote them out" in the gallery as lawmakers tried to quickly leave the House.In one such video, the photographer is WTVF Photographer Devin CrawfordRepublican Sexton walked by Pierson and Democratic state Rep. Justin Jones during the unrest. Earlier this year, Pearson and Jones were temporarily evicted after participating in a gun control protest in the Tennessee House of Representatives, which Sexton and other Republican members deemed a violation of protocol.
In the WTVF video, Sexton can be seen being escorted by a security team and appears to nudge Pearson as he walks by. The young Democrat holds up a bright neon pink piece of paper that reads: "Protect the Children, Not the Guns!" Republicans pass new rules banning House hearings and gallery viewing during special session Displaying signs of any kind was prohibited, but a judge struck down that rule on Monday.
In response to the physical contact, Pierson pushed Sexton back, and other nearby lawmakers reacted and separated the two. The video ends with Pierson being shoved by others on the House floor, though he continues to say something in Sexton's direction.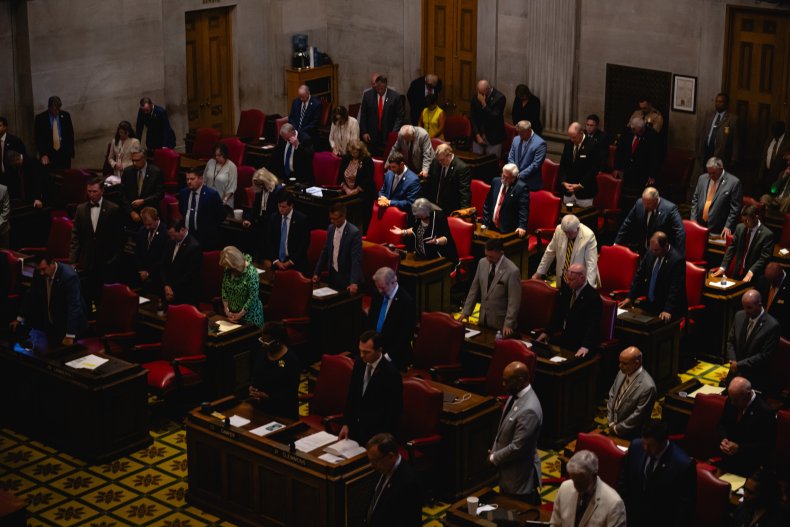 Afterwards, a member of his security team put his hand on his back and directed him to move to the right where Pearson was standing to avoid photographers on the floor, the House speaker told reporters.
"Unfortunately, some members tried to ring us up," according to a report by Sexton. Tennessee.
From another angle posted by Progressive news site Holler, Tennessee, it's unclear whether Sexton was actually under the command of his security team before hitting Pearson.that video is Share to XThe former tweet, filmed from behind Sexton as he left the House, shows Pearson and Jones confronting the House speaker shortly before the physical altercation.
The video shows that neither Pierson nor Jones appeared to touch Sexton until he met him.
"[Speaker Sexton] Today he pushed me hard while I was holding "Protect the kids, not the guns". Pearson wrote on his X account in response to WTVF's video of the encounter. "I'm angry at his actions, but even more angry at @tnhousegop not taking action to pass a bill to prevent gun violence. This is how democracy dies. We must rise!"
Weekly newspaper Sexton's office was emailed Tuesday evening for comment.
House lawmakers did pass four new bills on Tuesday, including increased funding for safety upgrades for higher education institutions and mental health facilities, Center Square reported. But several members of the public who attended the meeting — including some mothers whose children attended Covenant schools during the mass shooting — expressed anger at the lack of action on gun reform.
"Let me remind you. My daughter was hunted at her school," Covenant mother Mary Joyce told Tennessee. "She ducked a woman with a high-capacity rifle in her third-grade classroom. She now understands what it's like to be shot. Since then, she's worried every day if it's her last. Because it almost is."