Miami– Tropical Storm Idalia strengthened early Monday and is expected to become a major hurricane before reaching Florida's Gulf Coast, the National Hurricane Center said on Monday, warning that life-threatening storm surges and dangerous The risk of hurricane-force winds increases. late Tuesday.
Heavy rainfall in western Cuba could trigger flooding and landslides, with hurricane-force winds expected later Monday, forecasters said.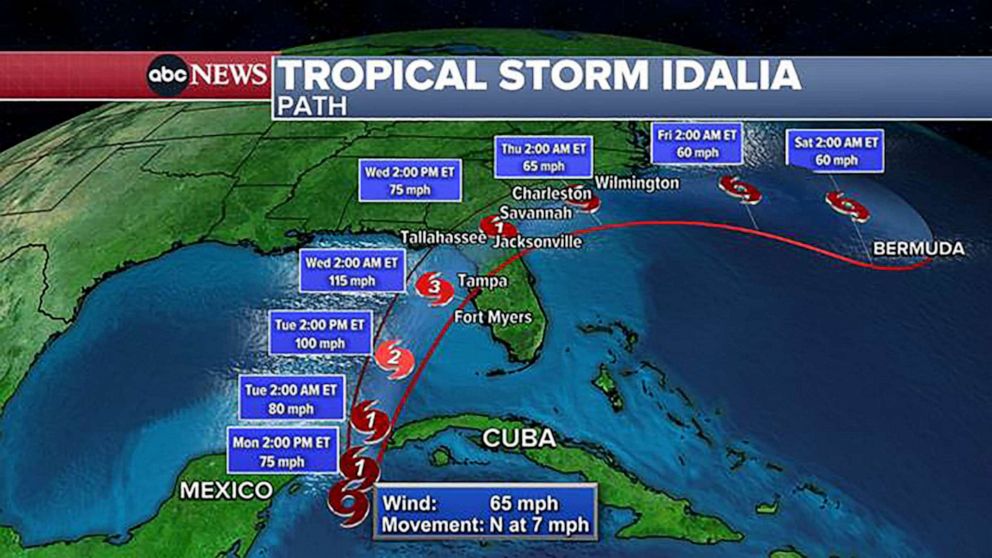 The storm was about 90 miles (150 kilometers) from the tip of Cuba at 8 a.m. ET Monday, with maximum sustained winds of 65 mph (100 kph). The hurricane center said the storm was moving northward at 8 mph (13 kph).
The center's update also included a hurricane warning for Cuba's Pinar del Río province.
Forecasters said they expected Idalia to become a hurricane later Monday and a dangerously large hurricane early Wednesday in the northeastern Gulf of Mexico.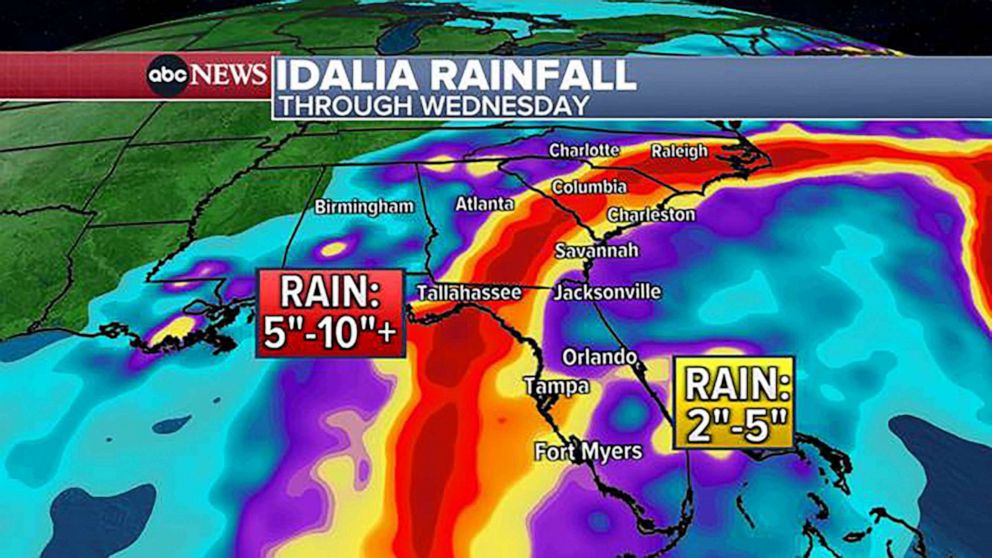 Idalia is expected to move northward on Monday before turning to the north-northeast at a faster pace on Tuesday and Wednesday. The center is expected to cross the southernmost point of the Gulf of Mexico early Tuesday and reach Florida's west coast on Wednesday.
Along a swath of Florida's west coast, up to 11 feet (3.4 meters) of water could rush ashore, sparking fears of damaging flooding.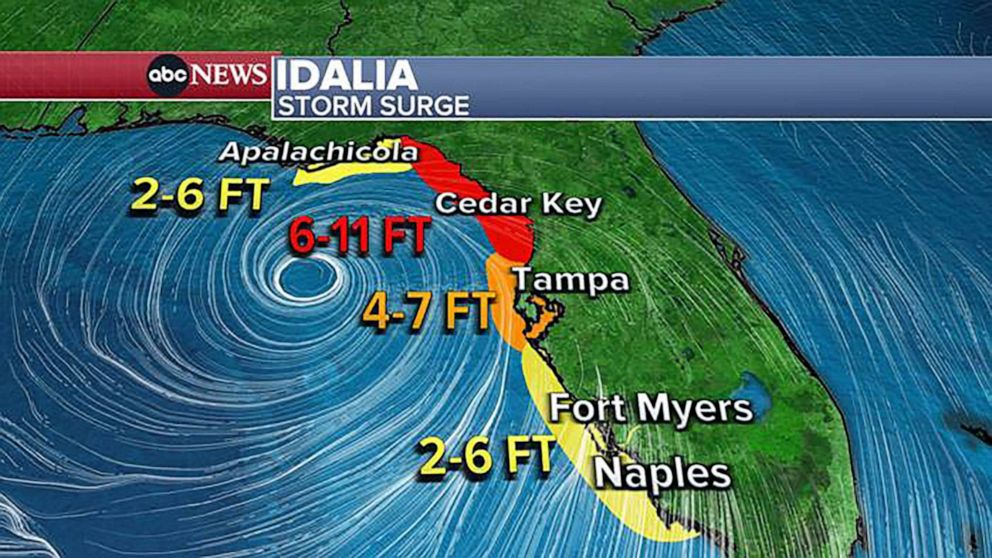 At a news conference Sunday afternoon, Florida Gov. Ron DeSantis noted that there is still a lot of uncertainty in the forecast.
"The thing hasn't made it to Cuba yet, and the water in the Gulf is very, very warm, so that's going to give the thing some fuel to pick up the pace," DeSantis said.
As a tropical storm or hurricane looms, much of Florida's west coast is at risk of seawater flooding onto land and inundating communities. National Hurricane Center Deputy Director Jamie Rome said Sunday that this area of ​​Florida is very vulnerable to storm surge.
"So it doesn't take a powerful system or a direct strike to generate a severe storm surge," he said.
Captain AJ Brown, a fishing guide who runs AJ Brown Charters, said storm surge is one of the biggest concerns in the fishing village of Cedar Key, which juts out into the Gulf of Mexico. The concern is that if the storm hits northern Florida, Cedar Key will be impacted by powerful surges from the storm's southeastern flank.
Cedar Key is concerned about storm surge, Brown said. If it reaches five feet (1.5 meters), "it will cover most of the city center."
Mexico's National Weather Service warned on Sunday of heavy rain and winds of up to 55 mph (89 kph) on the Yucatan Peninsula.
The storm could cause everything from huge waves to flooding in southern Mexico, mainly around the coastal cities of Yucatan and Quintana Roo, the report said. It requires citizens to be vigilant.
Florida has mobilized 1,100 National Guard members, "with 2,400 high-water vehicles and 12 aircraft available for rescue and recovery efforts," said Republican Gov. DeSantis, the Republican candidate. Presidential nomination.
"If you're in the path of this storm, you should expect power outages," he added.
The U.S. East Coast has not been hit by a hurricane so far this year. But in the west, Tropical Storm Hillary caused widespread flooding, mudslides and road closures in Mexico, California, Nevada and northern regions earlier this month.
The National Oceanic and Atmospheric Administration recently said the 2023 hurricane season will be busier than initially predicted, in part due to extremely warm ocean temperatures. The season runs until November 30th, with August and September usually being the peak months.
___
Associated Press writer Jeff Martin in Woodstock, Georgia contributed to this report.