Los Angeles, September 7, 2023 (GLOBE NEWSWIRE) — Dental bur market The company is expected to continue expanding in the coming years due to the increasing incidence of dental diseases and the widespread acceptance of cosmetic and implant dentistry worldwide.
The dental burs market is on a promising growth trajectory for the foreseeable future. This growth is underpinned by several key factors shaping the global dental care landscape.
Dental burs are an indispensable tool in the arsenal of dentists and dental professionals, playing a key role in a variety of clinical procedures. These rotary cutting instruments are usually made of high-quality materials such as tungsten carbide or diamond particles and are known for their durability and precision in dental work.
Their versatility is reflected in the numerous tasks they handle in the dental field. From preparing teeth for treatment to carefully removing decayed or damaged tissue, shaping dental restorations like crowns and fillings, to the delicate work of smoothing and polishing tooth surfaces, the dental bur is the tool of choice.
Their diversity is reflected in countless shapes, sizes, and designs, each carefully customized for a specific dental procedure. For example, while the skilful use of a round bur is often required when removing cavities, a pear-shaped bur has proven invaluable in preparing the tooth for the precise placement of a crown.
In the field of dental surgery, choosing the right bur is crucial. It significantly affects the efficiency and precision of dental work, requiring dental professionals to consider key factors such as bur tip size, shank type and the nature of the material they are working with.
Dental technology has made significant advances in recent years, resulting in innovative burs that improve cutting efficiency and reduce vibration. These developments not only improve patient comfort but also help shorten treatment times.
Dental Burs Market Highlights and Statistics:
The dental bur market size is expected to reach US$989 million by 2032, a significant increase from the valuation of US$578 million in 2022. This growth trajectory reflects a strong compound annual growth rate (CAGR) of 5.7% over the forecast period.
North America led the market in 2022, accounting for a sizeable share of over 38%, mainly due to its advanced medical infrastructure and strong dental care facilities.
In terms of application areas, cavity preparation will become the leading area in 2022, accounting for 29% of the market share. This prominence is closely related to the increasing number of dental restorative surgeries and restorative treatments performed worldwide.
Furthermore, the growing demand for minimally invasive and painless dental procedures has greatly contributed to the expansion of the market, indicating the changing preferences and advancements in dental care practices.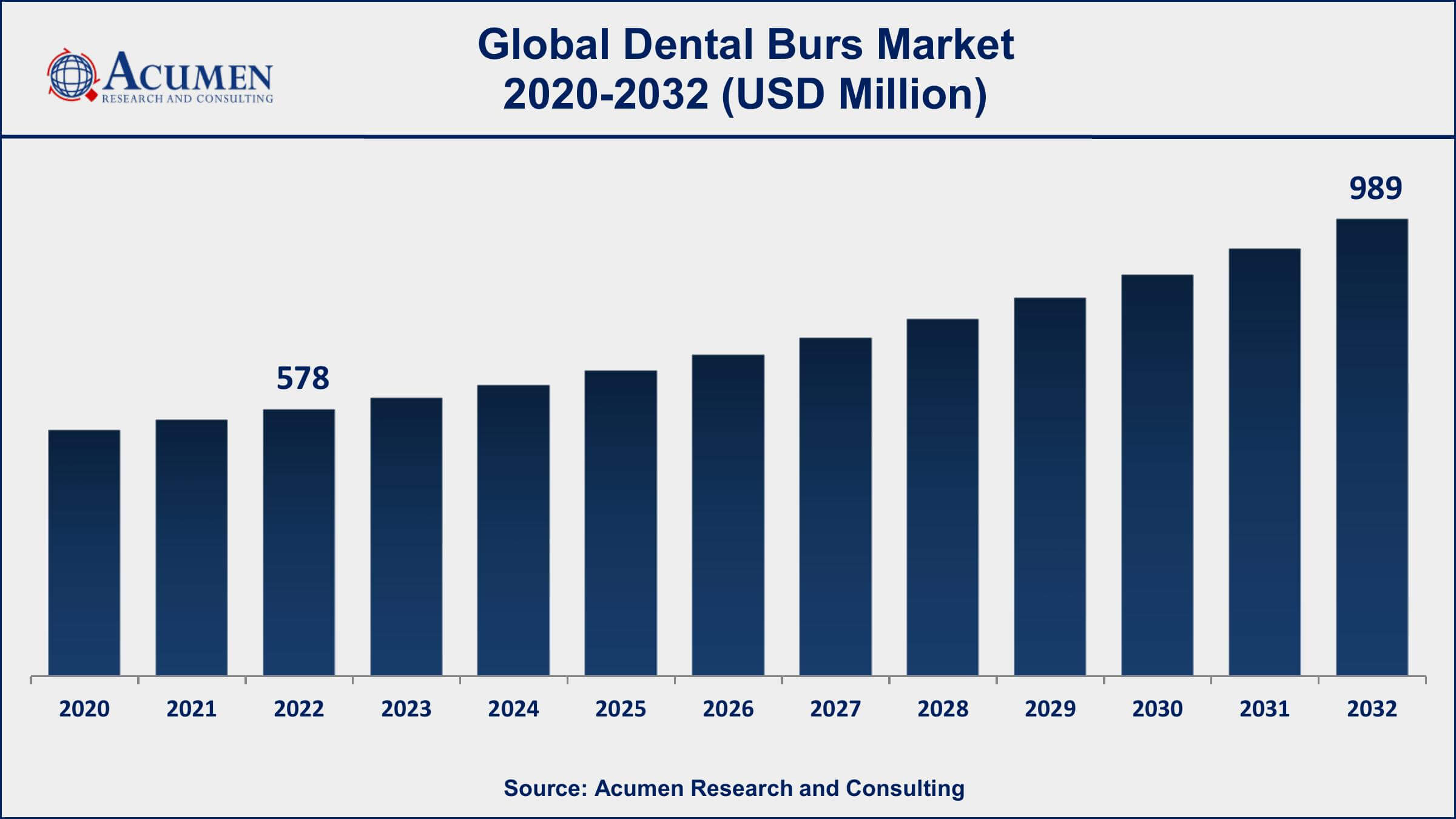 Request a free sample report@ https://www.acumenresearchandconsulting.com/request-sample/3345
Dental bur market Report Coverage:
market
Dental bur market
Dental bur market Size 2022
$578 million
Dental bur market Forecast to 2032
$989 million
Dental bur market CAGR 2023 – 2032
5.7%
Dental bur market analysis period
2020 – 2032
Dental bur market base year
2022
Dental bur market Forecast data
2023 – 2032
Market segments covered
By application, by material, end user and geography
Dental bur market geographic range
North America, Europe, Asia Pacific, Latin America, Middle East and Africa
Main company profiles
Dentsply Sirona, Komet USA, Brasseler USA, Kerr Corporation, SS White Dental Inc., Mani, Inc., Shofu Dental Corporation, NTI-Kahla GmbH, Johnson Promident, Micro-Mega, Prima Dental Group, and Strauss Diamond Instruments.
Reporting scope
Market Trends, Drivers, Constraints, Competitive Analysis, Player Analysis, Regulatory Analysis
Dental Burs Market Overview and Growth Factors:
The growth of the dental burs market is driven by several influencing factors, all of which contribute to its promising prospects:
Dental burs are an indispensable tool in a series of dental procedures such as tooth decay preparation, tooth extraction and root canal treatment, and play a pivotal role in the dental industry. They are also integral in the practice of cosmetic dentistry, where tasks such as tooth whitening and bonding require precision.
The upward trajectory of the dental burs market is primarily influenced by the increasing incidence of dental diseases, particularly tooth decay and gum disease. These conditions are significant catalysts for market growth, which is further fueled by rising oral health awareness and rising personal disposable income.
There has been an increase in demand for cosmetic dental procedures across all ages, including treatments such as teeth whitening and bonding designed to enhance the aesthetics of teeth. The surge in demand marks an important driver of market expansion.
Furthermore, continued advancements in the field of dentistry have a profound impact on market growth. Innovative dental burs are constantly being developed that are more efficient and effective than traditional dental burs.
The presence of favorable dental insurance policies and the booming trend in medical tourism, especially for dental procedures such as dental implants, will further drive market expansion. Dental insurance policies are becoming increasingly accessible and cost-effective, making dental treatment more accessible to a wider range of individuals. At the same time, the appeal of medical tourism stems from the pursuit of cost-effective and high-quality dental care.
Dental bur market trends:
Diamond-coated tungsten carbide and zirconia burs are increasingly used in the dental industry.
There is an increased need for sterile packs and disposable burs to reduce the risk of cross-contamination during surgery.
Focus on the development of electric-driven precision dental handpieces.
CAD/CAM technology continues to advance, especially in the design and manufacturing fields.
Minimally invasive surgical burs are increasingly used in dental procedures.
The biggest driving factors of dental bur market:
The incidence of dental caries, periodontitis and edentulism is increasing globally.
Cosmetic dental procedures are becoming increasingly popular and include treatments such as teeth whitening and reshaping.
Dental spending increases and personal disposable income increases.
Promote treatment adoption with favorable dental insurance policies.
There is a growing awareness of the importance of oral health and hygiene habits.
Major hindering factors in the dental burs market:
Tissue necrosis, pulp exposure and other adverse consequences.
Increased costs associated with advanced surgical carbide and diamond burs.
A lack of skilled dentists has hindered widespread adoption in developing regions.
Reimbursement coverage for dental procedures is limited in emerging economies.
Products continue to advance, resulting in relatively short product life cycles.
View report details@
https://www.acumenresearchandconsulting.com/table-of-content/dental-burs-market
Dental bur market segmentation:
upon application
Orthodontic applications
Cavity preparation applications
Implantology applications
Oral surgery applications
other apps
According to material
Stainless steel type
Carbide type
Diamond bur types
According to the end user
Dental clinic use
hospital use
Other uses
Dental Burs Market by Region:
North America occupies the leading position in the dental burs market, followed by Europe and Asia-Pacific in terms of market size and influence. This dominance in North America is primarily attributed to the rising incidence of dental diseases, significant increase in dental healthcare expenditures, and surging demand for cosmetic dental procedures.
Buy this premium research report –
https://www.acumenresearchandconsulting.com/buy-now/0/3345
Main PLAyers of Dental Burs Market:
COLTENE Group, Danaher Company, Dentsply Sirona, Integra LifeSciences Holdings Corporation, Henry Schein, Inc., Komet Dental, Septodont Holding, SS White, Tri Hawk Inc. and Zimmer Biomet Holdings Inc.
Browse more research topics healthcare industry Related reports:
Vital signs monitoring equipment market Size – Global Industry, Share, Analysis, Trends and Forecasts 2023 – 2032
Container sealing device market Size – Global Industry, Share, Analysis, Trends and Forecasts 2023 – 2032
Sports medicine equipment market Size – Global Industry, Share, Analysis, Trends and Forecasts 2023 – 2032
Browse our official website press release:
https://www.acumenresearchandconsulting.com/press-releases/dental-burs-market
about Sensitive Research and Consulting:
Acumen Research and Consulting is a global provider of market intelligence and consulting services to the information technology, investments, telecommunications, manufacturing and consumer technology markets. ARC helps the investment community, IT professionals and business executives make fact-based decisions about technology purchases and develop corporate growth strategies to stay competitive in the marketplace. With a team of over 100 analysts and over 200 years of industry experience, Acumen Research and Consulting ensures a combination of industry knowledge and global and country-level expertise.
For the latest updates, please follow us Twitter , Instagram and LinkedIn
contact us:
Mr Richard Johnson
Sensitive Research and Consulting
United States: +13474743864
India: +918983225533
e-mail: sales@acumenresearchandconsulting.com

Content provided by Global News Service. Toutiao is not responsible for the content provided or any links related to that content. Toutiao is not responsible for the accuracy, topicality or quality of the content.