Telangana Chief Minister K Chandrashekar Rao has launched the first phase of the Rs 5,000-crore Palamuru-Rangarddy Lift irrigation scheme to pump water from the Krishna river to provide drinking water and irrigation to more than 120 Thousands of acres of land provide drinking water and irrigation. six regions in the southern part of the state.
He officially launched the first phase of the program at Narlapur village in Nagarkurnool district by opening one of the thirty heavy-duty pump kits. The project, with an outlay of Rs 2,626 crore, aims to arrest the migration of thousands of laborers from Mahabubnagar district.
The project will have 31 huge pump trains with a capacity of 145 mW each and a capacity of 75 mW each.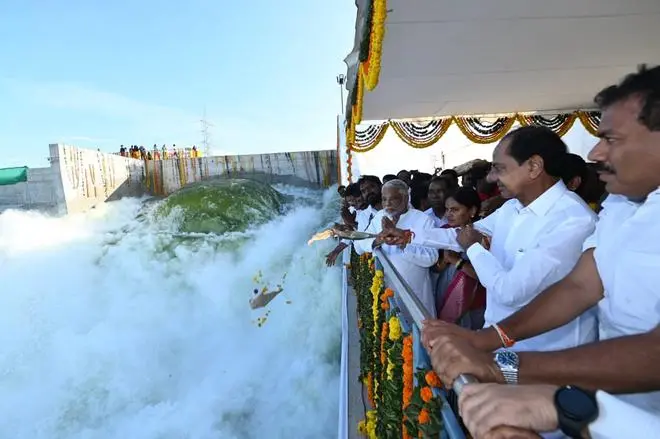 Telangana Chief Minister K Chandrashekar Rao (2R) inaugurated the Palamuru Rangareddy Lift scheme in Narlapur on Saturday, September 16, 2023. | Image source: PTI

The plan aims to extract 90 TMC of water in 60 days from the foreshore of Srisailam reservoir in Krishna. Water will be raised in five stages through pumping stations at different locations.
In KP Lakshmidevipalli village near Shadnagar town, water is pumped to an altitude of 670 meters. In the first phase, the scheme will provide drinking water to 1,226 villages in six districts, including Nagarkurnoo, Mahabubnagar, Narayanpet, Rangareddy, Vikarabad and Hyderabad.
The government has acquired 27,000 acres of land to occupy the first phase of work. In the second phase, it will acquire an additional 39,000 acres.
The scheme will have six reservoirs with a total capacity of 67 TMC, a total pipe length of 30 km and 95 km of tunnels.