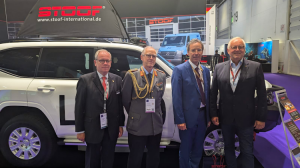 Fred Stoof poses with distinguished guests at the DSEI 2023 exhibition in London
"TROJAN has been tested for VPAM BRV, ERV version 3 VPAN and received 2-meter explosion certification from the German Special Protected Vehicle Certification Agency, receiving three out of three stars for each certification, which is unprecedented in this field. A world first."Fred Stoff, Owner of STOOF INTERNATIONAL
The State of France", interview with Fred Stoof von Stoof International"
——Yves Rousseau
PARIS, FRANCE, September 13, 2023/EINPresswire.com/ — STOOF International from Borheide, Brandenburg, Federal Republic of Germany, presented its latest developments at DSEI 2023 (International Defense and Security Equipment Exhibition) and Armored vehicles on display in London, the British capital
DSEI 2023 website = https://www-dsei-co-uk.translate.goog/?_x_tr_sl=auto&_x_tr_tl=zh-TW&_x_tr_hl=de&_x_tr_pto=wapp

DSEI 2023 Video = https://pages.pagesuite.com/media/4/8/48f8776e-7c3d-434f-98cc-6881369f7f26.mp4
After German Federal President Frank-Walter Steinmeier recently listened to Fred Stoof, owner of STOOF INTERNATIONAL, at the Federal Presidential Residence at the Belvedere Palace in Berlin, he expressed his opinions on heavy armored vehicles. After the explanation of "TROJAN", British Minister of State for Defense Procurement James Roger Cartlidge, Brigadier General of the Armed Forces of the Israeli Ministry of Defense Daniel Gold, and Deputy National Security Advisor of South Korean President Yoon Seok-yeol The Honorable Lim Jong-Deuk also attended DSEI 2023 in London, Anne-Marie Trevelyan, Minister of State for Foreign Affairs, Commonwealth and Development of the United Kingdom of Great Britain and Northern Ireland, and Patrick Nicholas, Chief of the General Staff of the United Kingdom. -Sir Yardley Monrad-Sanders, Sir Jim Hockenhull, Director of the UK Defense Intelligence Agency and Commander of UK Strategic Command, German Ambassador to the United Kingdom of Great Britain and Northern Ireland and Brigadier General Thorsten of the German Army- Gersdorf viewed STOOF INTERNATIONAL's armored vehicles.
Yesterday (September 12, 2023), the first day of DSEI London 2023, the French daily "Le Pays de France " conducted an interview with Fred Stoof.
"France": "Mr. Stoof, why did STOOF INTERNATIONAL from Germany participate in the DSEI exhibition in London?"
Fred Stoof: "DSEI exhibitions bring together governments, national armed forces, industry thought leaders and the entire defense and security supply chain on a global scale. In this case, the DSEI exhibition, which is held only every two years in London, is the Security One of the most important exhibitions in the field of technology, it provides a platform for access to relevant content, live demonstrations and knowledge sharing, especially at the present time, with more than 1500 exhibitors from the aerospace, land, naval, security and joint areas. 's latest capabilities are of most interest to visiting government officials."
"Le Pais": "Mr Stoff, you will present the 'TROJAN' vehicle in two levels of protection. Will the Future Technology Center be important as an integral part of DSEI 2023?
Fred Stoof: "DSEI's Future Technology Center is the largest and fastest-growing part of the exhibition. This part especially supports the participation of industrial companies with an important position in the defense field and strengthens relations between them through the presence of representatives of the national defense ministries. .
In view of this, we will be exhibiting "TROJAN" at DSEI 2023 in London, divided into two resistance levels, VR7 and VR9. In the current period of international tension, it is very important to protect the occupants of vehicles performing civilian, military and police missions by providing the absolute maximum degree of protection. "TROJAN" is tested not only according to the civilian norm VPAM, but also according to the military standard STANAG 4569, which we guarantee with our 150 years of experience in manufacturing special vehicles.
Le France newspaper: Mr. Stoff, what does maximum protection mean when it comes to armored vehicles?
Fred Stoff: "TROJAN was tested in accordance with VPAM BRV, ERV 3rd edition (VPAN = Vereinigung der Prüfstellen für angriffshemmende Materialien und Konstruktionen der Bundesrepublik Deutschland = Association of Test Centers for Impact Resistant Materials and Structures of the Federal Republic of Germany), even though It can also be blown up at a height of 2 meters, and each time it has received three-star certification from the German Special Protection Vehicle Certification Agency, which is the first in the world in this field."
Troy's video = https://youtu.be/E0PPb_tXPOs

Stoof International' website = https://www-stoof–international-de.translate.goog/?_x_tr_sl=auto&_x_tr_tl=zh-CN&_x_tr_hl=de&_x_tr_pto=wapp
Yves Rousseau
french country
+33 7 56 49 58 50
Email us here
STOOF INTERNATIONAL'S ARMORED TROJAN HORSE
Content provided by EIN Presswire. Toutiao is not responsible for the content provided or any links related to that content. Toutiao is not responsible for the accuracy, topicality or quality of the content.