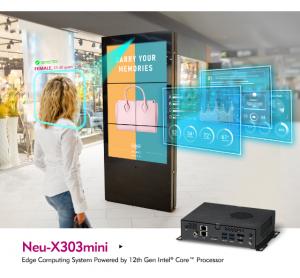 Improving consumer experience through real-time analytics and IoT technology
We are unleashing the power of data intelligence and edge AI computing on behalf of the retail industry."
—Peter Yang, President
FREMONT, CA, USA, September 18, 2023 /EINPresswire.com/ — NEXCOM, the world's leading smart retail equipment supplier, today announced the launch of Neu-X303mini to bring smarter, faster and more efficient operations to the retail industry. provide impetus for the future. Developed by leading technology experts, Neu-X303mini provides the latest edge AI computing capabilities to optimize inventory management, improve customer experience and increase operational efficiency.
Neu-X303mini uses the 12th generation Intel processor and aims to revolutionize the retail industry with its compact design and unrivaled performance® Core™ processors enable retailers to leverage cutting-edge edge AI computing capabilities to process and analyze large amounts of data at the source. Neu-X303mini's real-time data processing provides retailers with the actionable insights they need to deliver a more immersive customer experience.
"We are unleashing the power of data intelligence and edge AI computing on behalf of the retail industry," said Peter Yang, President of NEXCOM. "Enterprises leveraging IoT technology and real-time data analytics are already optimizing inventory management and delivering lightning-fast checkout experiences, to increase customer engagement, including eliminating the need for barcode scanning."
Designed for space optimization, the Neu-X303mini has a sleek and compact design, measuring just 183mm (width) x 137.9mm (depth) x 47.9mm (height). This mini powerhouse integrates seamlessly into retail environments without compromising performance.It works with Intel to provide uninterrupted operations® iris® Xe Graphics, a powerful platform that delivers stunning visuals and compelling 4K content creation and media playback capabilities.
Equipped with 2 LAN ports, 4 USB ports and 2 USB Type-C ports, Neu-X303mini supports enhanced customer experience on digital kiosks, ticket office displays, information kiosks, bus stop signage and other mobile transportation displays. Participation. Comprehensive connectivity options ensure simple integration and use with existing systems and peripherals.
"NEXCOM Neu-X303min is a game-changer for the retail industry, combining powerful edge AI computing capabilities with top-notch Intel® processors to harness the power of real-time data analytics," Yang said. "Creating enhanced shopping experiences is critical to competing in today's retail market, and with visual edge computing capabilities, this is now possible even within the constraints of tight retail spaces. Connect shoppers with immersive advertising, hospitality and brand engagement experiences. "
feature

●12th generation Intel® Core™ (Alder Lake PS) Processor SoC

● Four 4K@60Hz display outputs, DP, HDMI 2.1 and 2 x USB 3.2 Type-C

● Dual 2.5G LAN ports, 4 USB 3.2 and 2 USB 3.2 Type-C ports for easy connection

●Onboard M.2 2280 Key M with PCIe signal for storage module

● Onboard M.2 2230 Key E for optional Wi-Fi module

● Compact design (length: 183mm, width: 137.9mm, height: 47.9mm)

● 12V DC input
To learn more, please visit the NEXCOM website.
About NEXCOM

Founded in 1992, NEXCOM integrates its capabilities and operates eight global businesses, including industrial grid, smart city smart platform, smart video security, mobile computing solutions, medical and healthcare informatics, network and communication solutions, and smart manufacturing and open robotics and machinery. This strategic deployment enables NEXCOM to provide time-to-market, solution-based products and services without impacting costs.
Peter Yang
NEXCOM
+1 510-386-2266
peteryang@nexcom.com
Visit us on social media:
LinkedIn
Content provided by EIN Presswire. Toutiao is not responsible for the content provided or any links related to that content. Toutiao is not responsible for the accuracy, topicality or quality of the content.