Meghan Markle's sunglasses allow the wearer to see what's going on behind them, an "amazing safety feature" that impressed one TikTok user who picked up a pair.
In February 2019, the Duchess of Sussex wore Le Specs Air heart-shaped sunglasses at her baby shower at the Mark Hotel in New York. Fans say she might benefit from the feature, which allows the wearer to see people walking behind them, as framed below.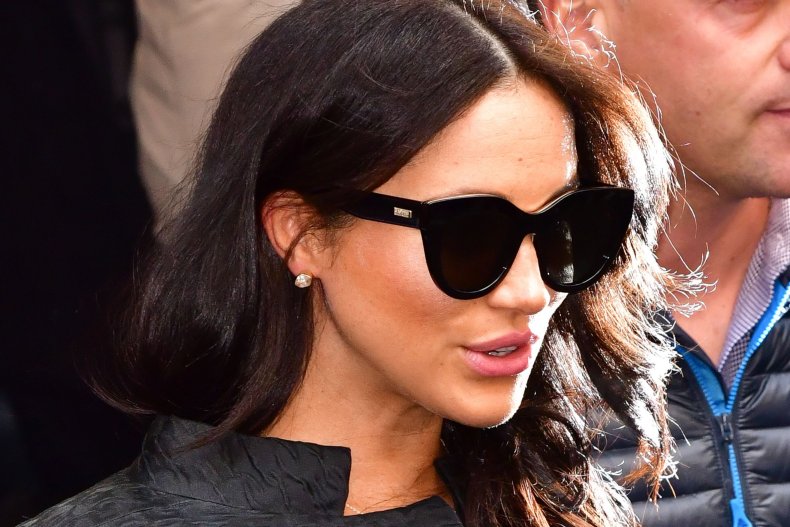 This feature could be handy for anyone who is both fashion-conscious and security-conscious, especially former royals who often need to avoid the paparazzi.
The sunglasses went viral after being mentioned in a TikTok video, which has been liked more than 150,000 times and viewed 1.3 million times.
The on-screen caption read: "When you're inspired by Meghan Markle to buy these high-end glasses, only to find out there's a surprising safety feature! You can see who's walking behind you!"
It adds, "Through reflections from the sides of the glasses, you can see what's behind you."
One TikTok commenter wrote: "I have a pair of glasses and I love being able to see behind me lol."
Another joked: "At least 80% of the reason it's because she's wearing them…she's a smart lady."
Meghan celebrated at a baby shower in New York with some celebrity friends, including Serena Williams, Jessica Mulroney, Gayle King and Amal Clooney.
In a 2022 Netflix documentary harry and meghanThe Duchess said: "My girlfriends surprised me with a really beautiful baby shower in New York. They said, 'We're going to shower her with love and give her a baby shower and she's going to get through this. .We're going to get through this." With her. '"
Meghan was going through a wave of negative publicity at the time, and the baby shower also attracted criticism, with British newspapers calling it expensive and too ostentatious.
"This is very wrong," Meghan said in the documentary. "These independent, strong, successful women chose to use their own money, not taxpayer money, to throw a party for their friends from a place of love. Why would you take such a beautiful moment and try to ruin it ?"
Jack Royston is Weekly newspaperChief royal correspondent in London. You can find him on Twitter: @jackroyston and read his story newsweek's Royals Facebook page.
Do you have a question about King Charles III, William and Kate, Meghan and Harry, or their families that you'd like our experienced royal reporters to answer? Send an email to Royals@newsweek.com. We'd love to hear from you.