Self-proclaimed prophet Julie Greene, a staunch supporter of former President Donald Trump and his MAGA movement, claimed in a recent video that she received a prophecy from God who said the "establishment" was "poisoning people's lives." food and water".
In the message, Greene suggested she was talking about the current leaders of the U.S. government, saying God would stop what these unnamed forces are doing to the military and "three-letter agencies."
Green frequently posts videos on her Julie Green International Ministries channel in which she shares messages she claims God sent her. Recently, she said God told her that the current indictment against Trump was going to "explode" and "all come crashing down." In another video, she spoke about prophecies about how the leaders currently in power will "eventually fall."
Greene has been a featured speaker at the right-wing "Renew America" ​​event, which also features former Trump adviser Michael Flynn and one of the former president's sons, Eric Trump. Trump Jr. appeared on Greene's show earlier this month, and she told him that God's message to her indicated that the Trump family was receiving God's protection.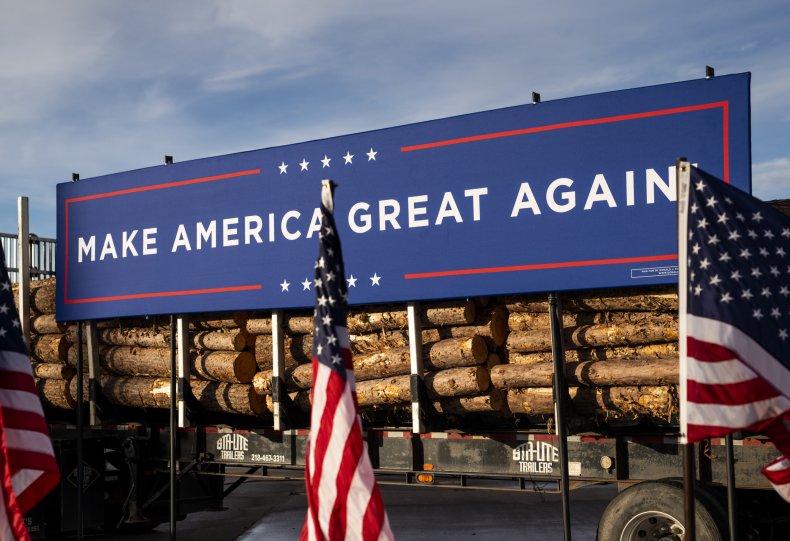 In her latest prediction, Greene spoke of multiple crimes and conspiracies against the American people, adding that the "establishment" is co-opting other countries to overthrow the United States
Weekly newspaper Green was contacted via email for comment.
"I'm going to expose every part of your plan. I'm tearing your plan apart and crushing it. I'm crushing everything you're doing," Green claims God told her.
She added: "I released every email, every phone conversation. I released everything behind closed doors and you had no idea I was with you… I had every terrorist attack you were about to have. "Plotting in all these cities, these big cities in this country. "
Green was quick to address the prophecies surrounding the alleged poisoning.
"You're going to introduce viruses to kill on an unprecedented scale. At the same time, you're going to plant terrorist plots everywhere and you're going to have 9/11-style attacks," she said. "You're disrupting supply chains. You're poisoning people's food and water. You're putting extra ingredients in their medications that kill them or make them sicker, making them weaker."
On Saturday morning, Ron Filipkowski, editor-in-chief of the liberal media outlet MeidasTouch, posted a clip of Greene's message on X (formerly Twitter) about the alleged poisoning and terrorist attacks.
Green concluded her message by saying God will stop the unknown conspirators.
"I'm in your way," Green claims God said. "I will have my say and I will keep my plans on track. The day you think you're going to celebrate is the day my children will celebrate – the day this country rises again."