British construction equipment company JCB is betting on hydrogen as the fuel of the future and plans to bring hydrogen, along with hydrogen-powered engines that drive machines, to India.
The company is the global leader in backhoe loaders, with about 55% market share, and has developed a hydrogen-based internal combustion engine. While it is still to be deployed commercially in the UK, it is already being used on a trial basis on some off-road machines such as backhoe loaders.
Hydrogen combustion engines work on the same principle as ordinary diesel engines, with the advantage of zero carbon emissions and the only emission is water vapor.
JCB's current chairman, Lord Anthony Bamford, is the son of founder Joseph Cyril Bamford and was a driving force behind the construction machinery giant's push into hydrogen energy. He sees it as a panacea for the UK's goal of net-zero carbon emissions by 2050.
Explore alternative fuels

Bamford, who admitted to being "totally biased against India", told media persons at the company's global headquarters in Staffordshire that India had no choice but to explore alternative fuels such as hydrogen to solve its energy problems and reduce its dependence on India. Import dependence.
Talking about the prospects of using hydrogen-powered machinery in India, Bamford said: "We are producing 200 engines a day in India. If we were to produce hydrogen engines commercially, we would produce them in India." He said it was difficult to give a timetable , because the biggest obstacle to large-scale manufacturing of hydrogen engines is procuring hydrogen for them.
Hydrogen is produced by splitting water and separating the elements, but the process involves the use of electrolyzers and is costly. In India, Reliance Industries, Adani Group and others have announced ambitious plans for commercial hydrogen production. Reliance Industries, for example, plans to conduct retail trials with OEMs and also plans to produce hydrogen through collaborations. JCB officials said it is in talks with several companies, including Ambanis, for green hydrogen production in India.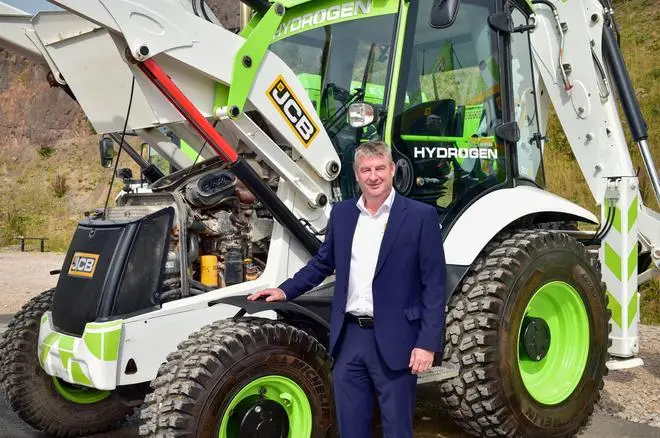 JCB Chief Innovation and Growth Officer Tim Burnhope with hydrogen-powered machinery

Chief innovation officer Tim Burnhope expects some development work for commercial production of the engine to take place in the UK over the next 12 to 18 months, with the product likely to be demonstrated in India later this year.
JCB sells one in two construction equipment machines in India, with its top-selling product in the country being backhoe loaders. Launched in 1979, it has become a key product used in infrastructure projects in the country. India accounts for about a quarter of the company's global revenue. The company reported global revenue of £4.4 billion in 2021, with sales of nearly 100,000 vehicles and pre-tax profits of £502 million. Between 2001 and 2014, nearly 38% of the company's total global investment was invested in India, and the country's workforce also accounted for half of its global workforce.
export hub

India has also emerged as an important country for the company as an export hub, with about 45% of the company's products produced in India exported to about 130 countries around the world. The company has six manufacturing plants in India. Last year, the company inaugurated one of its largest factories on 47 acres of land in Vadodara, Gujarat, with an investment of £100 million.
The company also sold electric machines in its quest for cleaner fuel sources, but the costs were prohibitive as the weight of the batteries and charging time outweighed the benefits. The company is also experimenting with hydrogen fuel cells, but those are equally expensive and require technical challenges to be overcome.
(The author came to London at the invitation of JCB)