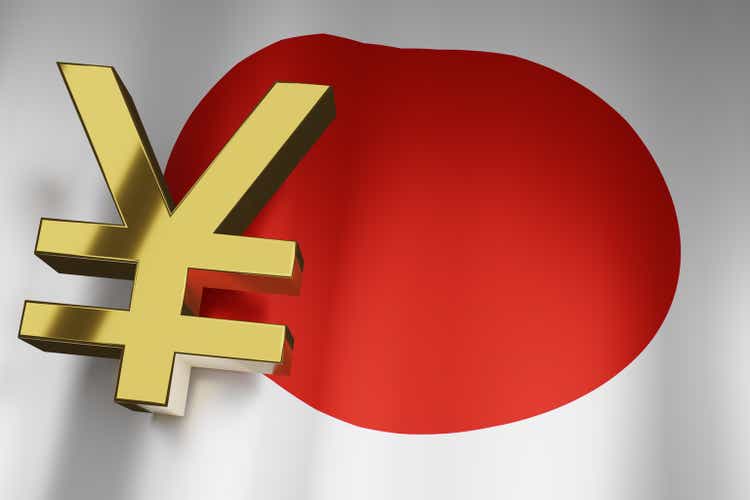 Japan's private sector economy continued to grow in September, continuing an expansion sequence that began in early 2023.Nonetheless, the pace of improvement slipped to its lowest level in seven months, according to the preliminary PMI reading. data.
Slower growth in services, partly due to another decline in new business overseas, and a faster decline in manufacturing output have contributed to the recent slowdown. In addition, business confidence fell further in September, indicating that the economic situation will be weaker in the future.
However, slowing private sector output growth was accompanied by weakening cost pressures on businesses, causing companies to raise expenses more slowly at the end of the third quarter.
Although Japan's CPI is expected to remain above the 2% mark in the near future, the latest preliminary PMI value may give the Bank of Japan a sigh of relief Observers worry about an abrupt end to ultra-loose policies.
Japan's preliminary PMI reading shows slowest growth since February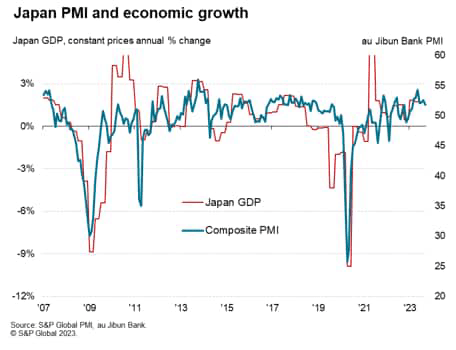 The preliminary au Jibun Bank Japan Composite PMI compiled by S&P Global fell to 51.8 in September from a final reading of 52.6 in August. The latest data was the weakest in seven months but was still consistent with private sector output rising for a ninth consecutive month in September.
This brought the average reading in the third quarter to 52.2, down from the second quarter's average reading of 53.2. Furthermore, the latest combined output data covering both industries is broadly in line with annual GDP growth of around 1.5%, which is still above the pre-pandemic 10-year average of around 1.0%.
Japan's economic growth remains driven by services sector
Japan's economic expansion in September was still driven by the services industry, which extended its expansion cycle to 10 months. Although growth was the slowest in eight months, it remained solid.
Conditions for service providers have continued to improve since pandemic restrictions were eased about a year ago, but this was largely domestically driven as overseas new business fell for the first time since August last year.
Optimism among services companies was also the lowest in eight months, suggesting growth momentum may slow further in the coming months.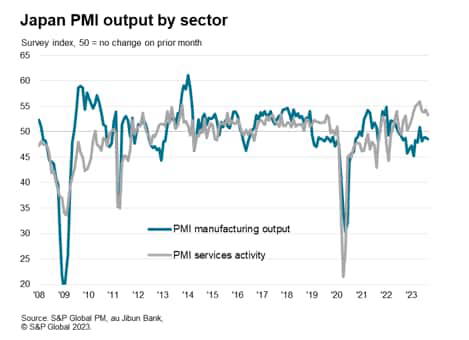 Meanwhile, Japan's manufacturing output fell for the fourth consecutive month in September, and the decline was faster than in August. According to rumors, new orders for Japanese manufactured goods fell at an all-time high in September as global market conditions worsened and customers continued to destock.
The same is true for manufacturers, with business confidence beginning to ease in August and continued reductions in manufacturing backlogs further signaling the likelihood of a prolonged economic downturn.
Price pressure eased in September
Price pressures eased in September, apart from the near-stagnant growth in new orders and measures taken by the manufacturing and services sectors. Input cost inflation fell during the latest survey after climbing in the past two months.
This was mainly due to lower service sector cost inflation as manufacturers faced faster price increases due to a weaker yen and higher raw material and energy costs.
As a result, businesses are passing on higher costs at a slower pace, although this is again attributable to slower services fee inflation, while manufacturing sales price inflation remained unchanged in September.
From a trend perspective, the PMI output price index tends to lead Japan's CPI, which means that the index may move lower in the coming months.
This relieved market observers who were worried about the Bank of Japan's increasing impetus to exit its current monetary policy setting, although the Bank of Japan is currently widely expected to exit its ultra-loose monetary policy setting in 2024.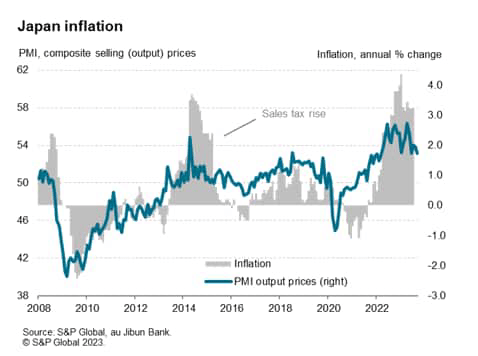 Finally, with the latest PMI update showing weak growth and the broad correlation between Japanese stocks and PMI data, upside may be limited in the short term. The lower future output index further suggests that we may see lower prices for indices such as the Nikkei 225.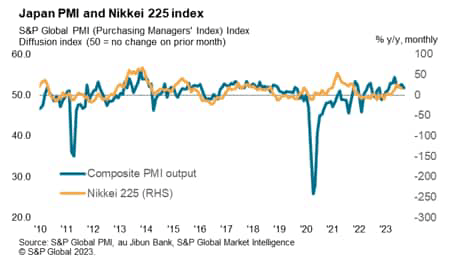 Original post
Editor's note: Summary highlights for this article were selected by Seeking Alpha editors.