Between October 2021 and September 2022, Indian households donated donations worth Rs 26,676 crore through currency notes. A large portion of these donations go to religious organizations. This is according to an analysis of 'How India Gives 2021-22', a study conducted by Ashoka University's Center for Social Impact and Philanthropy (CSIP) in collaboration with the Kantar Worldpanel division. As part of the study, 81,000 households across the country were surveyed.
Indeed, UPI's popularity is growing day by day. But when it comes to donations, Indians still prefer to use cash. Cash donations (including currency notes, digital wallets, checks, and credit and debit cards) amounted to Rs 27,000 crore between October 2021 and September 2022. The corresponding amount in the previous year was Rs 23,700 crore.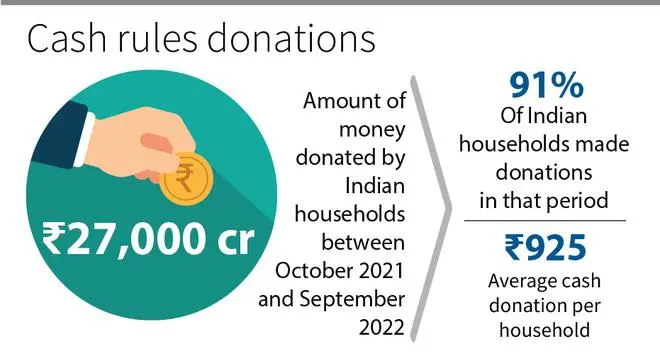 In 2021-22, the average contribution per household was Rs 925. 885 in 2020-21. "The reason for the increased market size is not that more households are donating 'cash,' but rather that cash giving has been more generous this year," the study states.
Of the cash donations, nearly 99% were donated through banknotes. Only 0.6% of total cash donations are made through digital wallets.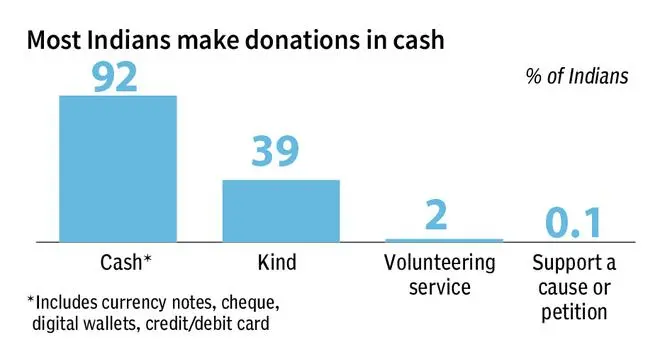 Most cash donations go to religious organizations. "In the cash category, 'religious organizations' (98%) received the highest proportion of donations. In the 'in-kind' category, 'panhandlers' were the most popular recipients, at 52%. Volunteering was the least preferred by families is one form of donation, with proportions between 1% and 3% of all recipient groups, followed by "support of causes or petitions," with proportions between 0% and 0.2%," the report states.