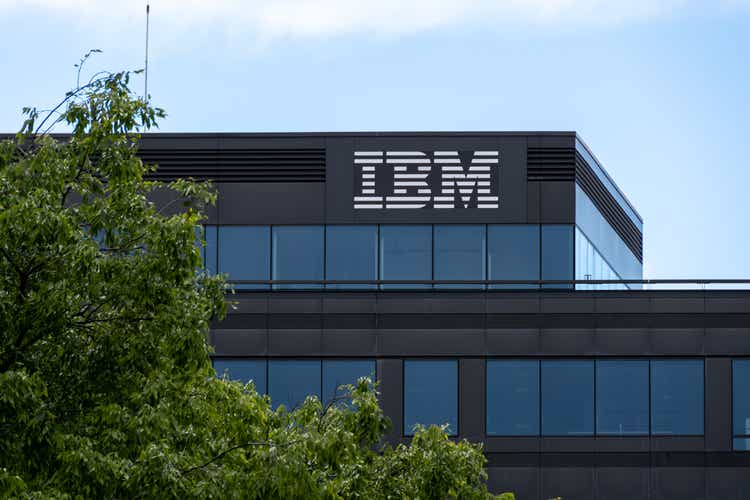 investment thesis
IBM(NYSE: IBM) has a long history of being at the forefront of technological development in the past. Founded in 1911, IBM pioneered the development and popularization of the punched card system, which revolutionized data processing and Computing in the Early 20th Century.
During World War II, IBM's tabulating machines played an important role in aiding the war effort, helping to process large amounts of data and contributing to the development of early computing technology.
In the 1950s and 1960s, IBM launched the IBM 700 series of mainframe computers, which became the cornerstone of large-scale data processing for businesses and governments around the world.
In the 1980s, IBM led the personal computer revolution with the introduction of the IBM PC, which set industry standards and helped bring computing to the masses.
Despite its impressive historical journey, The past decade has been a challenging one for IBM and its investors. To be precise, the company has significantly lagged the market, trailing the market by a staggering 178% in total returns over the past decade. Now, one might say that the S&P500 Index (spy) has been influenced by a handful of tech giants driving its growth. However, isn't IBM also in the same industry? Shouldn't it find a way to thrive in the technology-driven environment of the past decade?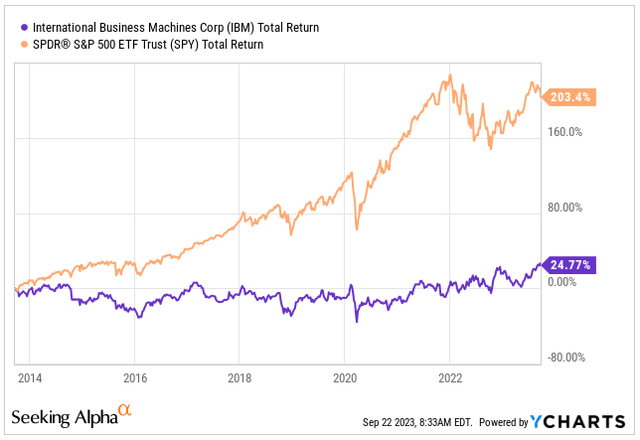 As we stand at the dawn of the next technological revolution characterized by artificial intelligence, we will witness a profound shift in our interactions with technology. These developments not only promise to redefine our relationship with machines, but also have the potential to increase productivity for generations to come. The natural question that arises is whether IBM, a long-time technology innovator, can once again play a pioneering role in this ongoing revolution.
Let's take a look.
AI at the forefront of IBM's agenda
To understand how AI is impacting IBM's growth, let's first look at how IBM makes money today.
In 2022, IBM's total revenue will reach US$60.53 billion, an increase of 5.5% from the previous year. Most of the revenue comes from the software segment, which accounts for $25 billion, accounting for 41.4% of total revenue. Notably, this happens to be the company's most profitable segment, with gross margins at an impressive 79.6%. The second most important business segment is consulting, accounting for 31.6% of total revenue, while infrastructure ranks third, accounting for 25.3% of revenue.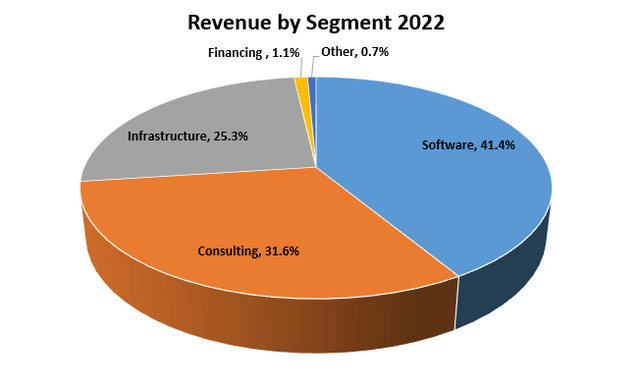 Many believe that the AI ​​revolution really began with the emergence of ChatGPT. This marked the moment when AI technology began to reach the public and demonstrate its practical applications, bringing it into mainstream consciousness.
IBM's foray into generative AI actually dates back to 2020, although it had largely stayed under the radar until the buzz around ChatGPT emerged. IBM is uniquely positioned with its hybrid cloud and artificial intelligence capabilities.
It all started with a massive investment in infrastructure, laying the foundation for what would eventually become a pioneering training platform in the early stages of Transformer experiments, paving the way for generative artificial intelligence and large-scale language models.
Rather than turning its efforts toward a consumer-centric engine, IBM's software product, Watsonx, is firmly committed to delivering custom generative AI solutions designed for enterprises. This strategic focus covers key areas such as HR solutions, customer service enhancements and application modernization.
IBM is focusing its efforts in areas where there are a lot of repetitive tasks and where businesses are eager to invest in digital solutions to improve operational efficiency and productivity.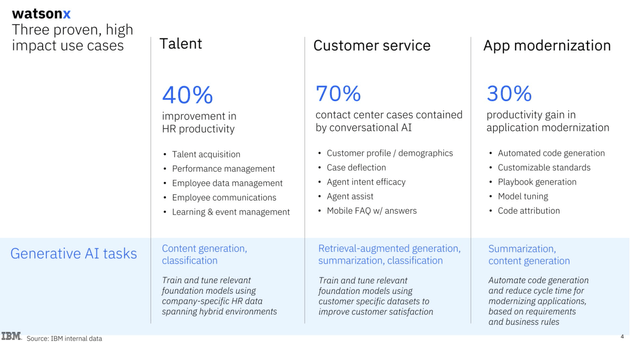 I think the enterprise-oriented approach is very encouraging, as it looks like the company has finally found a niche where they can stand out. The landscape of AI solutions for individual consumers appears to be saturated and competitive.
IBM focuses on its core strengths, building models based on its familiar data sets, including code, natural language processing, IT data and more.
Additionally, their software and consulting portfolio extends to artificial intelligence assistants with WatsonX, a platform that has the potential to significantly increase the productivity and efficiency of client employees.
In addition, IBM is committed to increasing investment and strengthening its presence in the data platform market, with a focus on enabling seamless interaction with customer data – a key element for successful execution of AI initiatives.
Additionally, they offer data services and hybrid cloud AI tools, effectively broadening their product offerings and enriching their core capabilities. This expansion ultimately provides customers with a comprehensive and comprehensive product package.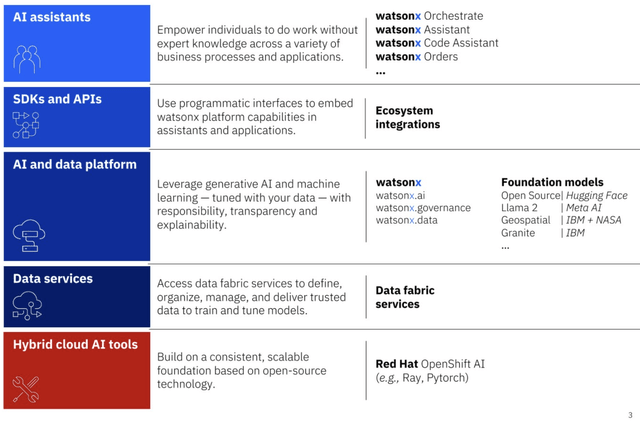 When we consider the broader picture of the AI ​​market, which is expected to reach approximately $2.6 trillion by 2032, more than half of that is attributable to generative AI solutions—an area in which IBM is actively competing. This means we expect the generative AI market to exhibit a strong CAGR of approximately 42%.
This provides a huge opportunity that will inevitably lead to fierce competition from many companies. Still, I'm optimistic that IBM is well-positioned to seize this opportunity effectively in its software and consulting areas.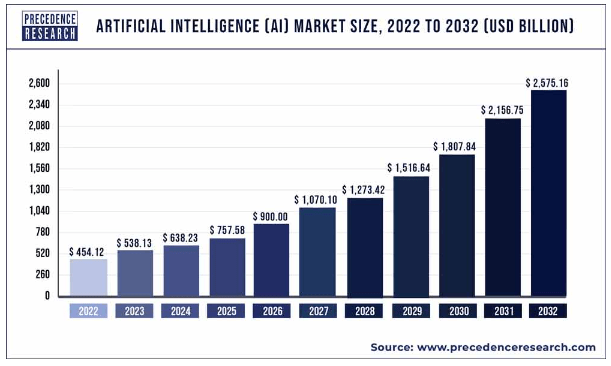 While the market's growth potential is undeniably huge, a key question that remains is the scope of the potential market that IBM can effectively enter. Given that this nascent industry is still in its early stages, determining accurate numbers remains challenging.
IBM reported impressive year-over-year growth of 8% for its software division through the second quarter of 2023, and an even stronger 11% for data and artificial intelligence, giving us a first look at our expectations. In comparison, the consulting industry grew at a more modest 6%.
Based on this information, I estimate that if executed well, IBM's potential lies in sustained annual revenue growth of approximately 5-7% in software and consulting over the next 10 years, driven by its AI initiatives.
Highly undervalued but with strong growth prospects
As mentioned earlier, the AI ​​revolution undoubtedly has the potential to improve the lives of many people, and given the inherent risks associated with the early stages, it remains challenging to precisely quantify the extent to which IBM can seize this opportunity. Taking a cautious approach, I'll assume 5% annual growth over the next decade, excluding any improvement in IBM's operating margins.
However, it's worth noting that IBM, which has 288,000 employees, could benefit significantly from AI by automating numerous processes, thereby increasing efficiency and potentially improving operating profits.
In a "bear market" scenario for AI adoption, I expect the company's revenue to reach nearly $94 billion by the end of 2032. This would be a 55% increase over current revenue levels. Meanwhile, operating profit is expected to exceed $15 billion.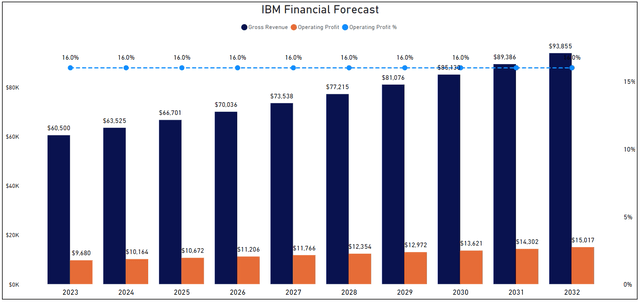 To calculate IBM's fair value, I use the DCF model.
Additional assumptions for the DCF analysis include:
The tax rate is 21.0%.

D&A and capital expenditures accounted for 56% and 26% of EBIT respectively.

The weighted average cost of capital (WACC) is 10.5%.

The EV/EBITDA multiple is 23.09.

The final growth rate is set at 1.5%.
After deducting these values ​​over the next 10 years, the present value of FCF is approximately $83.6 billion, while the present value of television is $147.5 billion. Therefore, the total enterprise value is estimated at $231.1 billion. After adjusting for cash, marketable securities, short-term and long-term debt, the final equity value was assessed at $197 billion.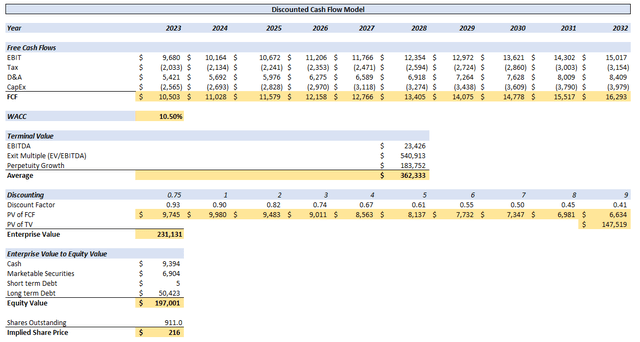 By my calculations, the company's estimated fair value today is $216, which suggests it's significantly undervalued by about 47% compared to today's price of $148.
in conclusion
IBM has been at the forefront of technological development since its inception and has a glorious history.
However, it must be acknowledged that the past decade has presented challenges for the company, characterized by declining revenue and a significant underperformance compared to the broader market, trailing by a massive 178%.
Nonetheless, we find ourselves in the early stages of a new artificial intelligence revolution that promises to improve the productivity and quality of life of many people.
IBM has been deeply involved in the field of artificial intelligence since 2020 and has identified its niche market in the enterprise field, providing data services and hybrid cloud artificial intelligence tools. These tools have the potential to significantly increase the efficiency of numerous companies.
With strong demand for AI solutions expected over the next decade, driven by impressive prospects for cost savings and increased productivity, we can foresee businesses growing faster and becoming more profitable, while seeking better, Faster AI solutions.
Considering a conservative growth rate of around 5% in my "bear case" for AI adoption, I believe IBM is well positioned to outperform. Combined with the fact that the company is currently significantly undervalued, estimated to be over 47% below its fair value, I feel confident in rating the company a Strong Buy for those looking to capitalize on the AI ​​craze.