Below are the numbers for the total transaction volume that the Bitcoin network has processed throughout its history to date.
Total Bitcoin accumulation under three different models
in a new postal On
The first model of interest here is Cumulative Total Transaction Volume, which tracks the raw number of BTC traded on-chain since the network first came online. This indicator is updated daily as new trading activity occurs and total trading volume increases.
However, measuring only raw transaction volume involves some issues, as not all movements that occur on the blockchain are actually due to some meaningful activity.
Take "Change Volume" as an example. Whenever a user makes a transaction from a wallet, the amount initially transferred may be greater than the amount entered by the user to send.
BTC transfers only occur for the entire "unspent output" (essentially the remaining amount from the previous transaction). If the unspent output adds up to more than the amount that must be transferred to other users, the "change" must be returned to the sender.
This is similar to if you buy a $98 item with a $100 bill, you will get $2 in change. This return transfer of change is not any real meaningful transaction.
The Change Adjusted Total Volume metric removes such transfers from the total volume, providing a more accurate picture of the network. The chart below shows Bitcoin's historical raw cumulative volume data and the trend of this metric: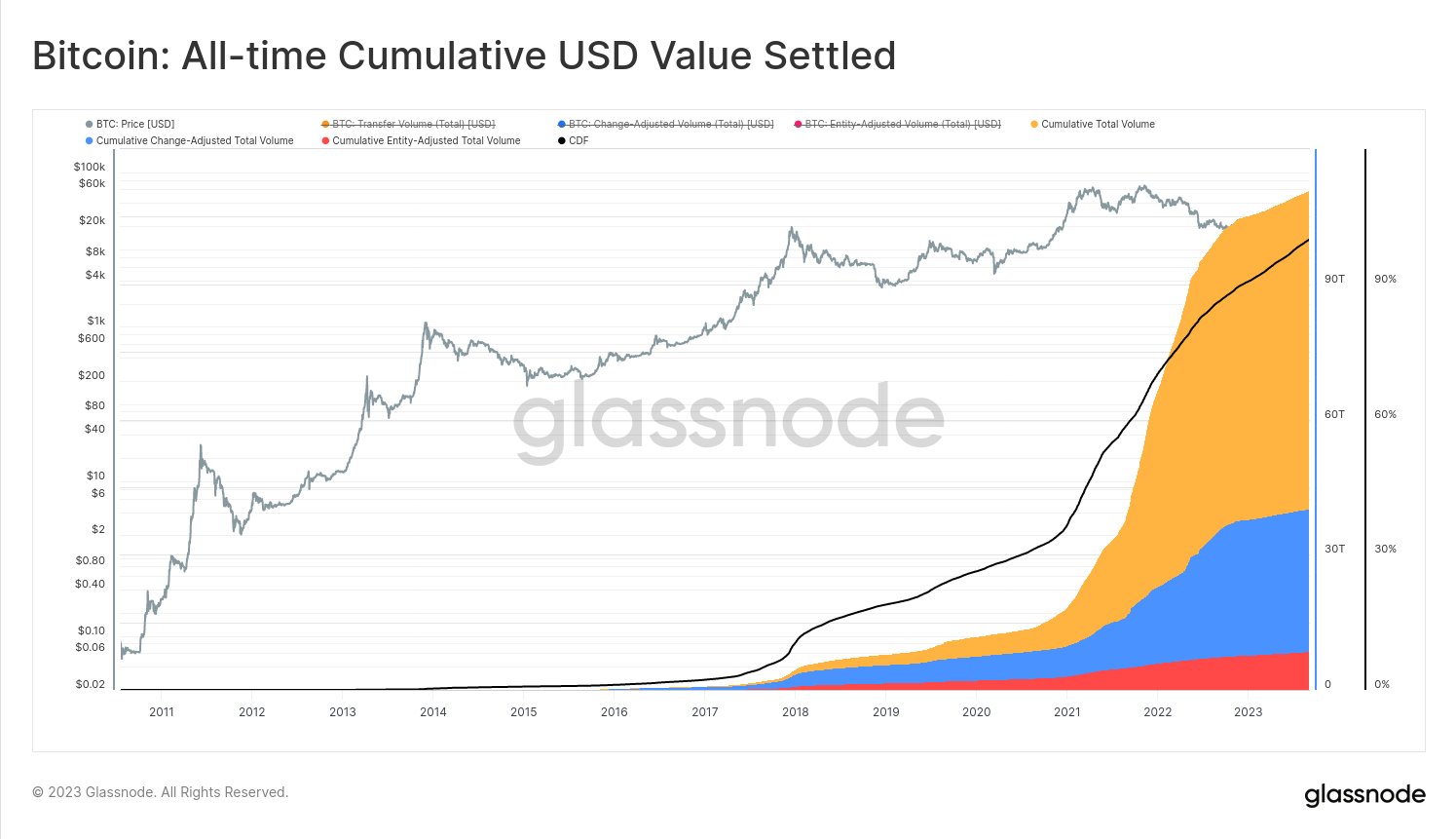 The volume data over the course of the asset's history | Source: @_Checkmatey_ on X
The raw transaction volume processed on the network to date is approximately $110.8 trillion, while the adjusted value of this metric is approximately $40.2 trillion. There are quite significant differences between the two.
However, even change-adjusted trading volume may not be completely accurate, as some transactions on the network are considered real transactions but do not involve token movements that may be relevant to the wider market.
Examples of such transfers include intra-exchange transfers and transactions between the same investor address. To filter out these irrelevant transfers, Glassnode uses the concept of "entities," which are clusters of addresses that the analytics firm determines belong to the same owner.
The third volume in the chart above (red curve) shows data for this "entity adjusted" volume. According to this model, Bitcoin has processed $8.6 trillion in transfer volume.
bitcoin price
Bitcoin's returns have been flat over the past week as the asset continues to trade around the $25,800 mark.
BTC continues to show stale price action | Source: BTCUSD on TradingView
Featured images from iStock.com, charts from TradingView.com, Glassnode.com