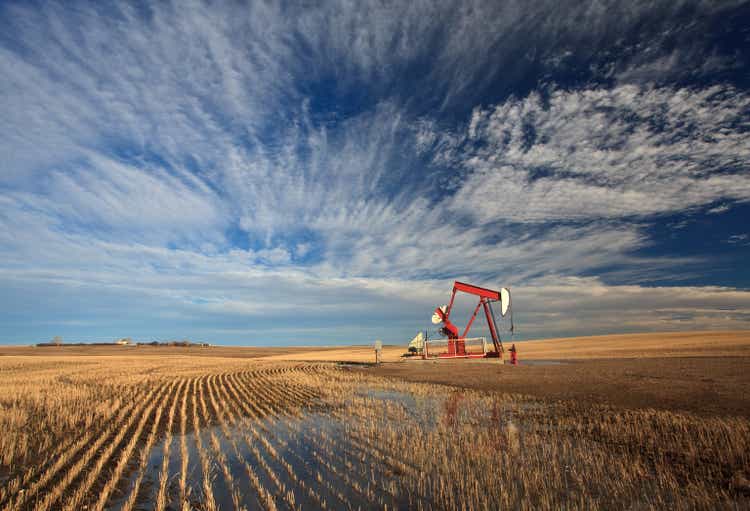 introduce
Back in July, I discussed Hemispheric Energy (TSX:HME:CA) (OTCQX:HMENF) is an interesting dividend candidate due to its strong dividend policy.The company pays a quarterly dividend of C$0.025 per share The dividend yield is 8%, but Hemisphere's dividend policy is to pay dividends based on operating cash flow. As oil prices rose (and then continued to rise throughout the third quarter), I thought the dividend was likely to increase. Now this has happened. While third-quarter results are obviously still to be announced, Hemisphere just announced a special dividend of C$0.03, bringing the full-year expected dividend to C$0.13, a yield of over 10%. I'd like to take another look at the stock to see how strong the third quarter will be.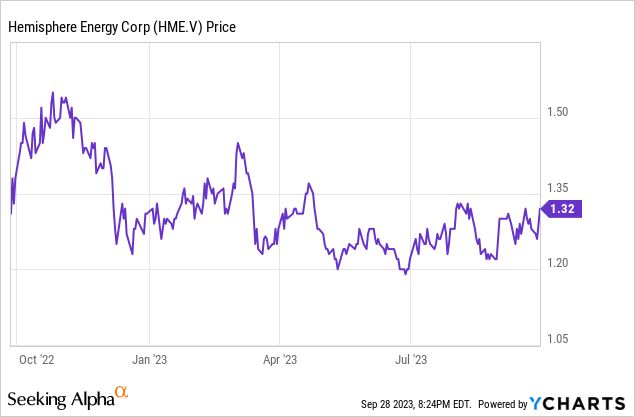 The second quarter results allow us to run the third quarter numbers
Before we dive into my expectations for the third quarter, it's important to take a closer look at the second quarter results, as that will be the starting point for my third quarter forecasts.
Because Hemisphere Energy primarily produces heavy oil (accounting for more than 99% of total oil equivalent production), WCS prices and the difference between light and heavy oil are important to the company (and its shareholders).
During the second quarter of the fiscal year, Hemisphere posted an average realized price for heavy oil of C$73 and an average realized price of approximately C$2.36 for the very small volumes of natural gas produced during the quarter. This resulted in an average price received of C$72.48 per barrel of oil equivalent, implying a total netback of C$42.41 per barrel of oil equivalent, excluding hedging losses. The highest operating cost is not pure production costs or transportation costs, but royalties. As shown below, royalties account for approximately 50% of all production costs.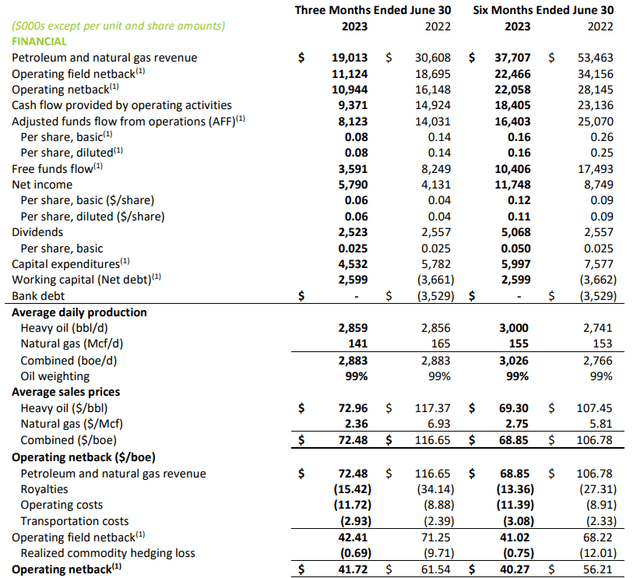 Hemisphere's total revenue for the second quarter was approximately C$19 million, or approximately C$15 million after royalties. Total net income of C$14.8 million also included hedging losses of approximately C$0.2 million.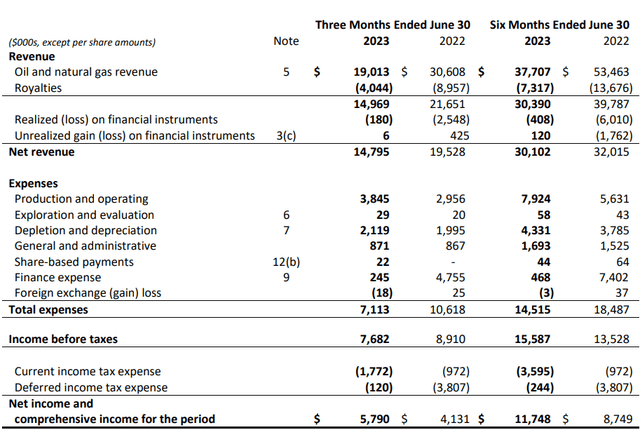 The income statement also clearly provides evidence of low production costs. Total production costs are less than CAD$4 million, with consumption and depreciation accounting for approximately 30% of all operating expenses. That's good, because it means pre-tax income of C$7.7 million, which equates to net profit of C$5.8 million after paying a tax bill of C$1.9 million. That means second-quarter earnings per share of about C$0.06, which obviously also means the quarterly dividend of C$0.025 per share is well covered, since the payout ratio is below 50%. This is based on an average realized price of just C$73 per barrel of heavy oil.
It's not just accounting profits, as the company's cash flow statement appears to support strong net profits.
The chart below shows that the company generated operating cash flow of approximately CAD9.4 million, but after deducting the CAD1.5 million contribution from changes in working capital and the CAD0.2 million in lease payments, adjusted operating cash flow was CAD7.7 million. Capital expenditures and capitalized exploration cash outflow totaled C$4.5 million, and net free cash flow was C$3.2 million, or C$0.032 per share.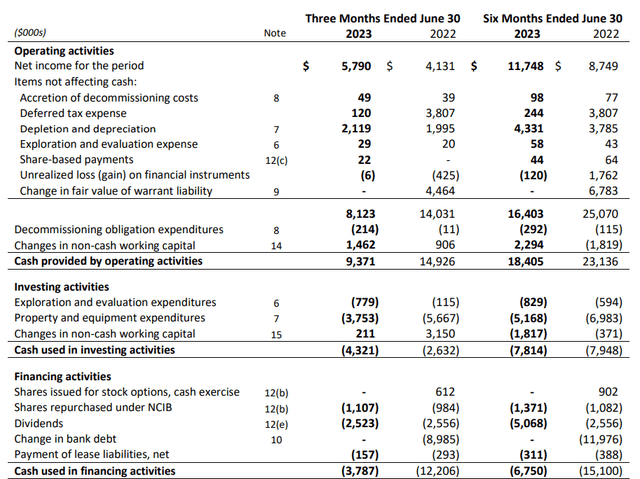 While this still fully covered the quarterly dividend, the free cash flow result was significantly lower than net profit. This is primarily due to high capital expenditures and capitalized exploration, which has more than twice the depreciation expense. This is also higher than normalized capex, as Hemisphere is still guiding for full-year capex of C$14 million, or C$3.5 million per quarter. Even if you use $4 million per quarter, the free cash flow results are obviously still strong.
Now that we've established how strong the second-quarter results were, let's take a look at our expectations for the third quarter.
Oil prices continue to rise, and it is worth noting that heavy oil prices are also rising. The WCS price was CAD$83 in July, CAD$87 in August, and may exceed CAD$95 in September. This means we expect the average realized price this quarter to be over C$85 per barrel, and possibly even closer to C$90 per barrel.
Assuming an average realized price of C$88/barrel during the quarter, Hemisphere's revenue per barrel will increase by approximately C$14 compared to the second quarter. After royalties and taxes, net operating cash flow should increase by approximately CAD$7/bbl. At a production of 3,000 barrels of oil equivalent per day, this would mean additional net free cash flow for the quarter of C$21,000 per day, or C$1.8 million.
Special dividend in progress
This means that Q3 free cash flow results are likely to be C$5.5 million (using C$4 million of normalized capex), which equates to around C$0.055 per share.
The company's dividend policy requires a payout ratio of 30% of adjusted funds flow. At an average heavy oil price of C$88/barrel, annualized adjusted funds flow would be approximately C$38 million, implying an annual dividend of approximately C$0.12 per share. This depends on the mass adjustment factor per barrel of oil.
This is what I was looking forward to in my last post. But earlier this week, Hemisphere Energy announced it would pay a special dividend of C$0.03 per share in November. Combined with the normal quarterly dividend of CAD$0.025 per quarter, the full-year dividend would be CAD$0.13.
investment thesis
This reaffirms Hemisphere's status as a small-cap oil company with dividend potential. The company had no total debt and a net cash position of approximately CA$4 million as of the end of June, so it makes sense that the company continues to focus on keeping shareholders happy. I'm looking forward to seeing the third quarter results, and I wouldn't be surprised to see adjusted operating cash flow of C$10 million and normalized free cash flow of C$6 million. For now, I'm a little more conservative and will use an expected free cash flow of C$5.5 million based on the WCS average price of about C$88/barrel. But keep in mind that WCS oil prices are now up more than 10%, at around C$100 a barrel.
I hold a long position in Hemisphere, and while I'm primarily focused on capital gains, I'm very pleased with the generous dividend payments.
Editor's Note: This article discusses one or more securities that do not trade on a major U.S. exchange. Please be aware of the risks associated with these stocks.