When members of the royal family go on official visits overseas, they often pay homage to their host country through their attire, and Queen Elizabeth II is known for doing just that.
Over the past century, the heads of state of Britain and France have made regular state visits, with the fashion media paying close attention to the attire of the royal family and the French delegation.
In September 2023, the three most senior members of the royal family will travel across the English Channel to France for activities.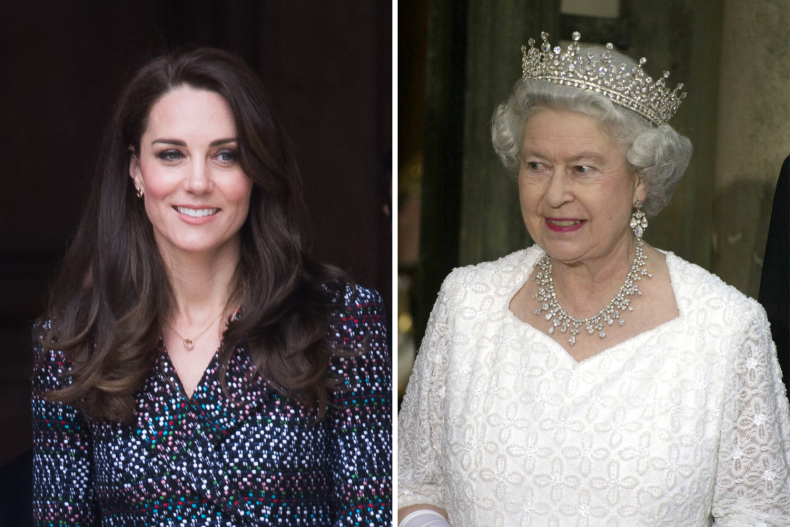 The Princess of Wales will attend the Rugby World Cup in Marseille on Saturday, September 9, to watch England (of whom she is patron) take on Argentina in the group stages.
The Prince of Wales will travel to Bordeaux to watch the Rugby World Cup match between the Welsh national team (of which he is patron) and Fiji on Sunday, September 10.
Following this, French President Emmanuel Macron will host King Charles III and Queen Camilla in Paris and Bordeaux for an official state visit to France from September 20 to 22.
Here, as the royals prepare to make their style mark in the world's fashion capital, Weekly newspaper A look back at the top fashion moments in France so far, from Queen Elizabeth II to Kate and Camilla.
Queen Elizabeth II, Palais Garnier, 1957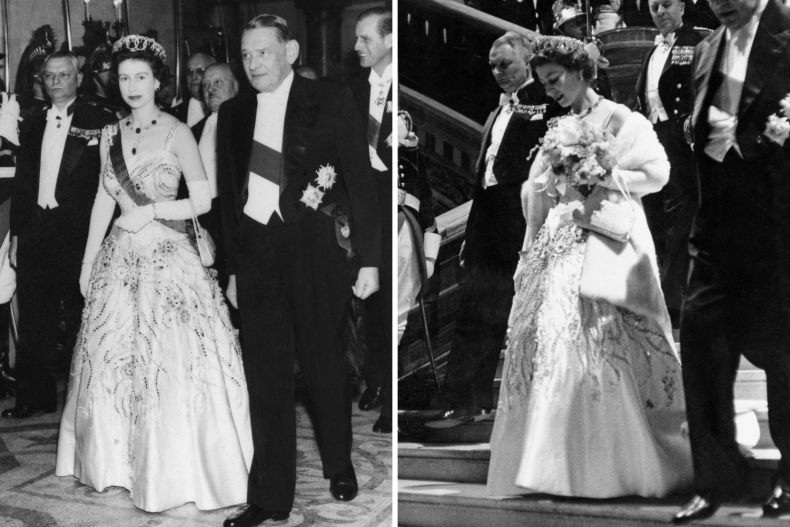 When Queen Elizabeth II made her first state visit to France in 1957, she paid tribute to her host country by wearing one of her most gorgeous custom-made gowns, second only to her coronation gown.
At a state banquet hosted by President Rene Coty at the Elysée Palace, and during a subsequent visit to the ballet at the Palais Garnier in Paris, the Queen wore a white satin gown heavily embroidered with floral patterns associated with France.
The dress was designed by Norman Hartnell, the designer of her wedding and coronation gowns, and the finished look was nicknamed the "Flower of the French Fields."
The dress features patterns of grass, wheat, wildflowers and Napoleon bees. Queen Elizabeth later donated the design to the Victoria and Albert Museum in London, where it was displayed in various exhibitions.
Princess Diana, Elysee Palace, 1988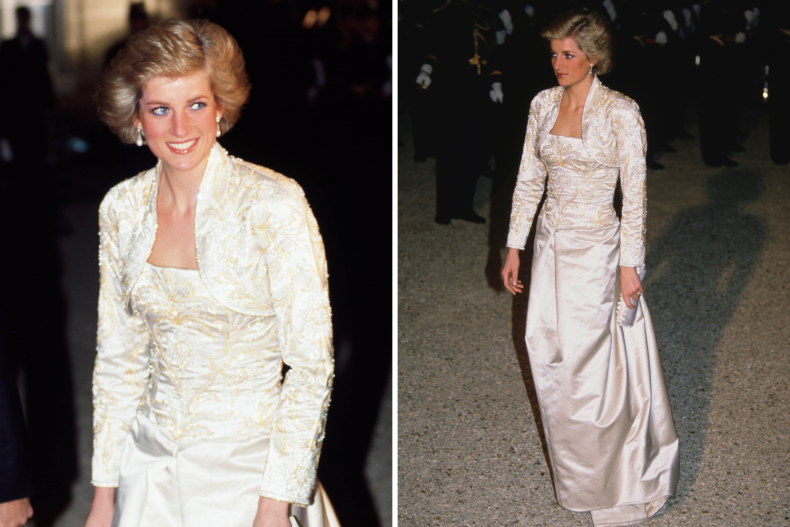 Princess Diana visited Paris many times throughout her married life, where she tragically died in 1997 at the age of 36.
For an official visit to Prince Charles (now King Charles III), the Princess commissioned a special dress that held such personal significance to her that just months before her death, she considered wearing it Its removal from the prestigious dress auction.
The oyster satin column-cut gown with a gold embroidered bodice and matching bolero jacket received widespread acclaim from the fashion press when worn to a banquet at the Elysée Palace.
In his 2003 memoir royal dutiesPrincess Diana's butler, Paul Burrell, remembers how Princess Diana told him when he was selecting a dress for a 1997 auction: "Not sure I can let go of this dress. When I put it on , I really feel like a princess."
It was listed as the last lot of the auction and sold for $90,500.
Princess Diana, Elysee Palace, 1995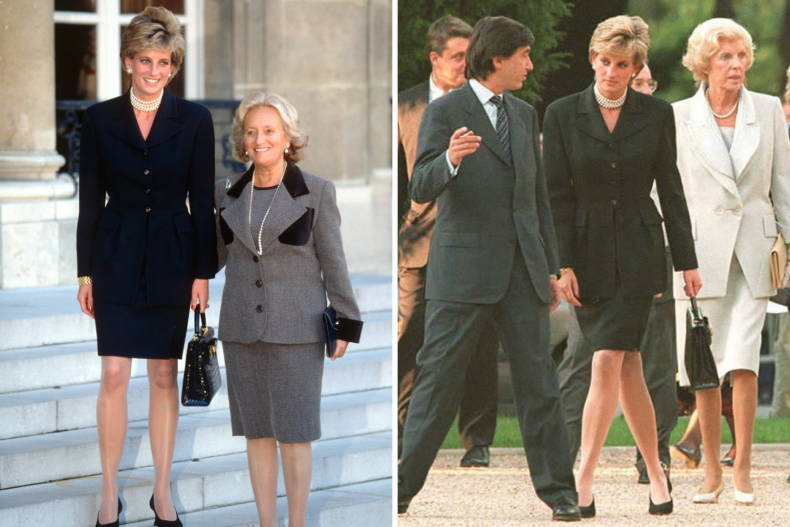 Before her divorce in 1996, Diana's last official visit to France was in September 1995, when she attended the opening of an exhibition of Paul Cézanne's work at the Grand Palais.
During the day trip, the princess met the wife of President Jacques Chirac and was photographed at the Elysée Palace wearing a chic black suit from the Autumn/Winter 1995 collection of Italian fashion design house Valentino.
During her visit, Bernadette Chirac presented Princess Diana with a new handbag designed by the French fashion house Dior team. Diana loved the bag so much she commissioned a bespoke one in blue to match her eyes.
After her death, Dior renamed the bag "Lady Dior" in her honor, in honor of her maiden name, Diana Spencer. It has become one of the brand's best-selling accessories.
The Princess of Wales, British Embassy in Paris, 2017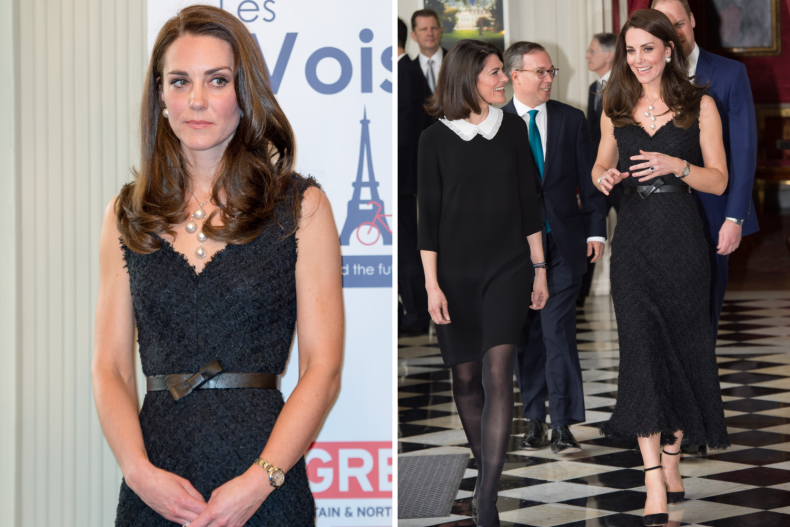 Kate, Princess of Wales, has only made one official visit to Paris since marrying Prince William in 2011.
The couple held a series of events in the city in March 2017, with Kate kicking off her visit wearing a chic all-black dress by Alexander McQueen at a reception at the British Embassy.
The princess accessorized her look with faux pearl jewelry, a sapphire and diamond engagement ring that once belonged to Princess Diana, and a watch from French high jewelry brand Cartier.
Princess of Wales, Eiffel Tower, 2017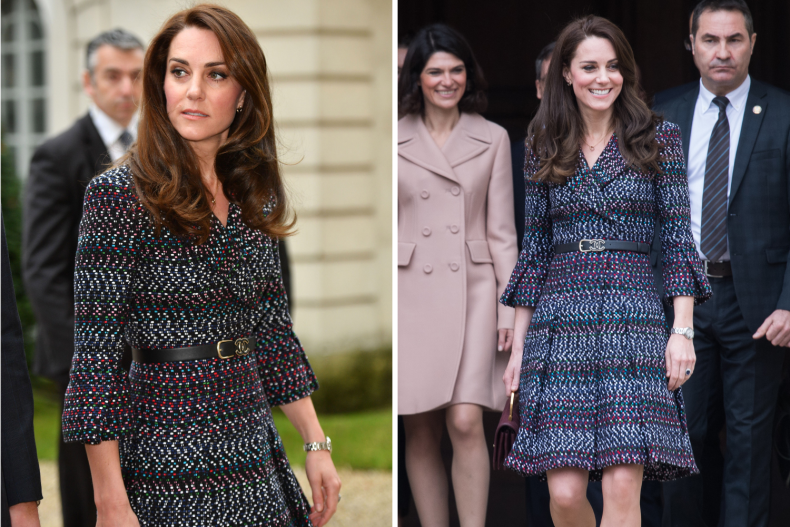 In 2017, Kate visited Paris with Prince William and paid patriotic tribute to her host country the next day by donning iconic clothing from the famous French fashion house Chanel.
The princess wore a wrap-style coat dress with pleated details on the skirt and sleeves, paired with a matching belt and purse designed by Chanel creative director Karl Lagerfeld.
The design was adapted from couture pieces from Lagerfeld's Spring/Summer 2017 collection, which she paired with her Cartier watch and a jewelry set, also from the brand, in a "holy trinity" design.
Queen Camilla, Normandy, 2019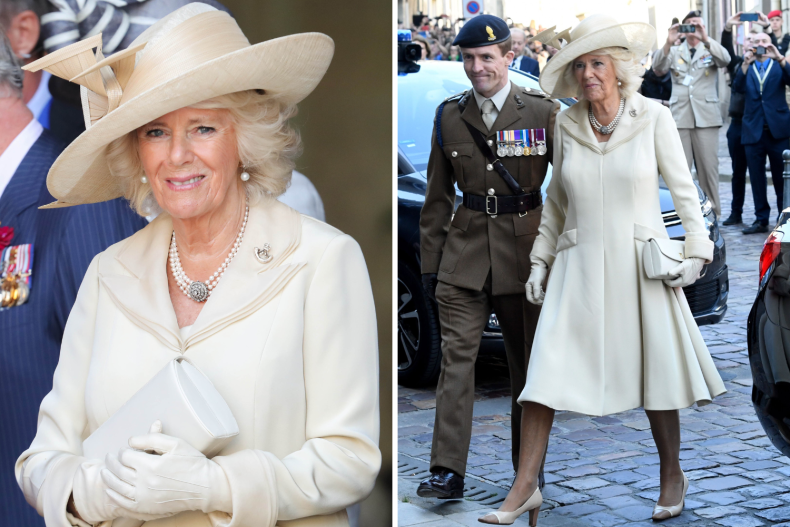 Another member of the royal family who paid tribute to the French people during her visit to France was Queen Camilla, who wore an elegant tuxedo coat dress by Chris when she visited Normandy with King Charles in 2019 to commemorate the 75th anniversary of the Allied D-Day invasion of World War II. Designed by Christian Dior.
The Queen has a close relationship with Dior, having visited its couture atelier during a 2013 trip to Paris.
At Royal Ascot 2023, the new Queen wore another white coat dress by Dior.
James Crawford-Smith is Weekly newspaperRoyal correspondent based in London. You can find him on Twitter: @jcrawfordsmith and read his story Weekly newspaperRoyals Facebook page.
Do you have questions about King Charles III, William and Kate, Meghan and Harry or their family that you would like our experienced royal reporters to answer? Email Royals@newsweek.com. We'd love to hear from you.