Pittsburgh Steelers linebacker TJ Watt became the franchise's all-time sack leader in a Week 2 win over the Cleveland Browns. monday night football.
Watt dragged Browns quarterback Deshaun Watson to the ground before halftime on Monday, giving him 81.5 career sacks. The 2021 Defensive Player of the Year surpassed James Harrison to become Pittsburgh's top defensive player. Watt, a five-time Pro Bowler, also had a record-breaking night with a fumble recovery touchdown to take the lead.
"I'd be lying to you if I didn't say it's special," Watt said of the record on the team's website. "Like anything, it hasn't happened yet. I don't know if it will until I have some time to really sit down and process what just happened tonight. But there are a lot of people along the way who have helped me get there. I'm ."
The 28-year-old joins elite company as one of the 32 players with the most sacks in franchise history.
Watt is one of six active players to receive the honor, joining Chandler Jones (Arizona Cardinals), Myles Garrett (Cleveland Browns), Von Miller (Denver Broncos) ), Aaron Donald (Los Angeles Rams) and Cameron Jordan (New Orleans Saints). Jones later moved on to the Las Vegas Raiders, while Miller now plays for the Buffalo Bills.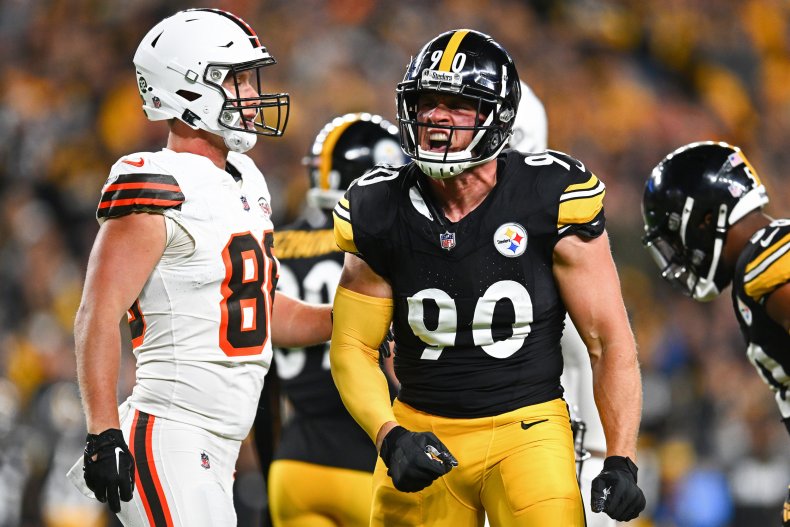 TJ Watt joins brother JJ Watt as sack leader
On a personal note, TJ is now the second member of the Watt family to lead a sack franchise. His older brother, three-time Defensive Player of the Year JJ Watt, recorded 101 sacks during his decade-long career with the Houston Texans. Watt's eldest brother retired from the NFL after last season and now works as an analyst for CBS.
"TJ Watt is the best defensive player on the planet," JJ Watt tweeted during Monday's game. "Stop trying to question it, stop trying to defend other people. He's the best. Period."
Bruce Smith has the most sacks for a single team in NFL history. The Pro Football Hall of Famer had 171 sacks in 15 seasons with the Buffalo Bills. Smith is the league's all-time sack leader with 200 sacks in 19 seasons. By comparison, Tony Brackens is the Jacksonville Jaguars' all-time sack leader with 55 sacks. This was the fewest sacks of any player who led the team.
Curious how TJ Watt compares to other all-time greats? Here are the players with the most sacks among all 32 NFL teams.
Quick note: Sacks didn't become an official statistic until 1982, and the NFL doesn't recognize sacks recorded before that season. The numbers listed below are from Pro Football Reference. The sack totals for active players are as they enter Week 3 of the 2023 NFL season.
Most sacks of any 32 teams in NFL history