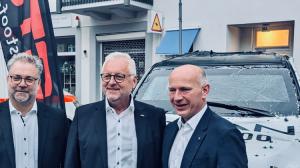 STOOF INTERNATIONAL: Fred Stoof, Berlin Mayor Kai Wegner and the rolling fortress "TROJAN"
STOOF INTERNATIONAL: Fred Stoof, Berlin Mayor Kai Wegner and the rolling fortress "TROJAN"
Berlin Courtyard Festival hosted 3,500 guests in the red town hall by Berlin Mayor Kai Wegner, where one of the main courses was STOOF INTERNATIONAL's "TROJAN".
——Wilhelm Bergman, DIARIO DE LA BOLSA DE BERLÍN
BERLIN, GERMANY, September 15, 2023 / EINPresswire.com / — The legendary Berlin Hoffest, hosted by Berlin Mayor Kai Wegner in the courtyard of the Rotes Rathaus (Red Town Hall). About 3,500 guests from all walks of life welcomed the theme of life, an outstanding armored vehicle, the "TROJAN" from STOOF INTERNATIONAL.
STOOF international armored vehicle has wear-resistant steel plates, aramid, centimeter-thick glass, special chassis with special brakes, fire extinguishing system, GPS tracking system, wheels with emergency rolling system, armored tank, protected exhaust system, siren, Flashes, etc. Like many other secret special devices, the most important thing about them is one thing: absolute caution!
Countless representatives from the political, economic, scientific, diplomatic, cultural, media and sports circles marveled at this rolling fortress named "Troy".
STOOF INTERNATIONAL has built a successor model based on the Toyota LC 300 under the "Trojan" brand in a secret production workshop covering an area of ​​about 25,000 square meters only 50 kilometers away from Bockheide. TROJAN". Departing from the gates of Berlin, the capital of Germany.
"TROJAN" is certified by the VPAM (Association of Test Centers for Resistant Attack Materials and Structures) BRV as the most resistant SUV special protection vehicle, the ERV 3 version is also in the 2 meter sprengen, each with three out of three stars awarded by the German Beschussamt , embodying STOOF INTERNATIONAL's 150 years of experience in manufacturing special vehicles.
BERLINER BÖRSEN-ZEITUNG (Berlin Stock Exchange Newspaper) asked Fred Stoof, owner of STOOF International, about the "TROJAN", which was surrounded by many interested parties in Berlin Hofst.
Berlin Stock Exchange: Mr. Stoff, what is a rolling fortress?
Fred Stoof: "Rolling Fortress is an exceptional defensive tool that provides comprehensive protection against attacks, which is especially important for vulnerable groups in these political times."
Börse Berlin: Mr. Stoff, are you better protected in an armored vehicle?
Fred Stove: "Bullets and shrapnel cannot penetrate the vehicle body and the occupants will not be harmed because armored vehicles are safe transport for politicians, kings and queens or high-ranking officials."

Many representatives from the social spheres of politics, business, science, diplomacy, culture, media and sports came to the courtyard of the Rotes Rathaus to see the safety of the STOOF special protection vehicles. internationality.
Berlin Yard Festival video = https://www.youtube.com/watch?v=nBKDqScekVA

Video of the armored "Trojan" = https://www.youtube.com/watch?v=E0PPb_tXPOs

STOOF INTERNATIONAL web page = https://www-stoof–international-de.translate.goog/?_x_tr_sl=auto&_x_tr_tl=es&_x_tr_hl=de&_x_tr_pto=wapp
William Bergman
berlin stock exchange
+49 30 20924045
Email us here
Visit us on social media:
LinkedIn
Youtube
other
Video of the armor "TROJAN" of the German company "STOOF INTERNATIONAL"
Content provided by EIN Presswire. Toutiao is not responsible for the content provided or any links related to that content. Toutiao is not responsible for the accuracy, topicality or quality of the content.