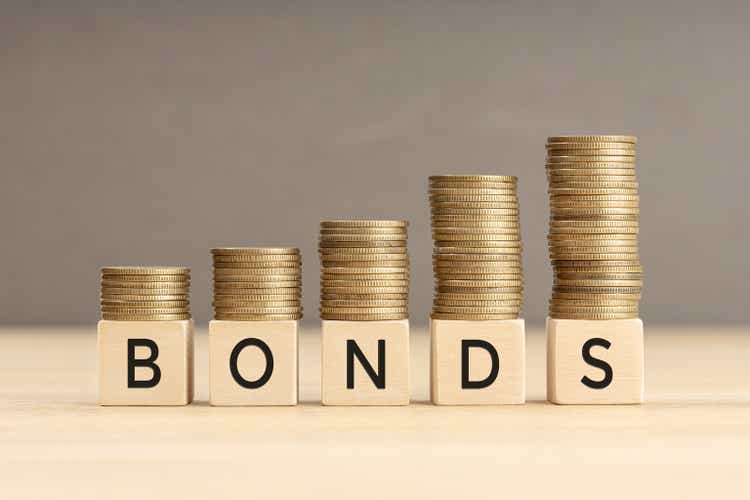 Transcript
Government bond yields have soared this year, with long-dated U.S. bond yields hitting a 16-year high in August.
We believe short-term government bonds are now more attractive to us than investment-grade credit over the long run.However, we still see risk of long-term bonds.
The reasons are as follows:
1) Comparable income
Rising short-term bond yields have narrowed the gap with credit yields, keeping incomes roughly comparable. Short-term bonds are also more resilient to changes in interest rates than credit.
2) Huge forces will keep inflation persistent
We also see massive forces—tectonic shifts that drive future returns—perpetuating inflation.
Population aging and the low-carbon transition are two forces we track that are likely to continue to pressure wage growth and drive up energy costs.
We take this to mean that central banks will be inclined to tighten monetary policy in response to inflation.
3) Long-term bonds require higher compensation
We remain cautious on long-dated bonds. That's because investors' demand for compensation for the risk of holding long-term bonds remains negative.
We believe that the new and volatile economic regime requires a more flexible and dynamic strategic perspective.
We are underweight DM nominal government bonds in favor of shorter-dated bonds and underweight high-quality credit.
We remain bullish on inflation-linked bonds as we expect more persistent inflation.
____________
Sovereign bond yields have surged this year, with long-dated U.S. bond yields hitting 16-year highs last month. We prefer short-term government bonds to credit. We are underweight high-quality credit on a five-year and longer-term strategic basis and reducing our overall underweight in sovereign bonds. Given rising inflation, heightened macro volatility and rising debt levels, we still see investors demanding more compensation for holding long-dated bonds. We also like inflation-linked bonds.
Narrowing the gap
Note: The graph shows yields on US investment grade credit (using the Bloomberg US Credit Dollar Index) and short-term US Treasuries (Bloomberg US Treasury 1-3 Year Dollar Index).
We believe that the new landscape of heightened macro volatility requires a more flexible and dynamic strategic perspective. Short-term government bond yields have risen along with long-term yields as central banks have raised interest rates rapidly. The move has pushed short-dated U.S. Treasury yields (yellow line in chart) closer to prime credit yields (orange line), making short-dated bond yields comparable. We lowered our overall Underweight on Developed Market (DM) nominal government bonds in favor of short-dated bills and downgraded Investment Grade (IG) credit to Underweight from Neutral. In our view, high-quality credit offers limited compensation for any potential impact on returns that widening spreads and interest rate volatility sensitivities may have. We prefer higher yields on private credit and see alternative lenders filling the corporate funding gap as banks rein in lending.
We believe that massive forces—tectonic shifts that can drive returns now and in the future—reinforce why we are in a new regime of greater macro and market volatility. Aging populations in developed regions could fuel inflation as the workforce shrinks, leading to tight labor markets and high wage growth. The economy may be able to sustain a lower rate of growth than in the past without sparking inflation. Aging is often accompanied by rising levels of government debt. We see the low-carbon transition as another huge force we track that will drive up energy costs over the next decade. The associated surge in capital spending and additional government spending could boost economic activity and exacerbate inflationary pressures. These and other massive forces underpin why we see a tightening bias in central banks in an attempt to keep inflation near their policy targets.
What we think about long-dated bonds
In 2020, we have significantly reduced our nominal government bond holdings, but we have also reduced our underweight at times when the market moves in line with our view. We cut rates again, but are not ready to be bullish on long bonds even as yields rise. That's because the term premium, the compensation investors demand for the risk of holding long-dated bonds, has risen from lows but remains negative, especially for U.S. Treasuries, according to the London Stock Exchange. This is historically unusual.
We see three reasons why long-term bond yields and term premiums could climb: First, we think the market will price in long-term inflation stabilizing above the DM central bank's 2% policy target. Second, we also see investors demanding higher term premiums to reflect greater risk in nominal bonds due to higher inflation volatility and higher debt levels. The downgrade of the U.S. credit rating last month underscored the fiscal challenges ahead. Third, foreign demand for long-term government debt may weaken: for example, Japanese investors may turn to domestic bonds as yields climb as the Bank of Japan further raises the cap on long-term yields. To turn bullish on long-dated bonds, we need to see a significant rise in term premiums, or believe that market expectations for future policy rates are too high. We are not there yet.
the bottom line
We develop our view with an update to our August capital markets assumptions and strategic portfolio. We increased our allocation to short-dated sovereign bonds, lowered our overall underweight in nominal government bonds, and cut investment grade credit to underweight. We remain underweight in nominal government bonds overall due to risk in longer-dated bonds. We like inflation-linked bonds. Over the long run, we like stocks. They should outperform fixed income returns when growth rebounds from our expected near-term stagnation – even if it gets bogged down by future demographic shocks.
market background
U.S. stocks rebounded last week from a 2% drop in August, while the yield on the 10-year Treasury note retreated from around 4.30% on the 16-year note. The gains in equities suggest that market sentiment remains very sensitive to yield movements and policy rate expectations. The decline in job openings in July and the employment report in August suggests that the U.S. labor market is now recovering from the mismatch of the pandemic. As economic normalization unfolds and population aging begins, we expect an inflationary rollercoaster ride.
A slew of Chinese data this week will help gauge waning momentum in the economy after a rapid post-COVID-19 restart. China faces two major challenges: weak consumer demand and weak export demand. As a result, we have lowered our growth forecast for this year to around 5%. The two-year average growth rate for 2022-23 is expected to be about 4%, well below the pre-pandemic growth rate of about 5%.