Former Pentagon special adviser Ryan Goodman said Mark Meadows, the former White House chief of staff under Donald Trump, "directly" blamed the former president during his testimony in Georgia on Monday.
Meadows testified in a bid to move his racketeering case involving the overturning of Georgia's 2020 presidential election from state court to federal court. The former Trump official spoke in nearly three hours of testimony about his duties in service to the former president and claimed his actions related to the Georgia indictment fell within his duties as chief of staff.
During the hearing, however, Meadows may have furthered the case of Fulton County District Attorney Fani Willis, who accused Trump and his allies of devising a sham electorate scheme, to pass on to him his chances of losing to President Joe Biden in several key swing states in 2020. including Georgia.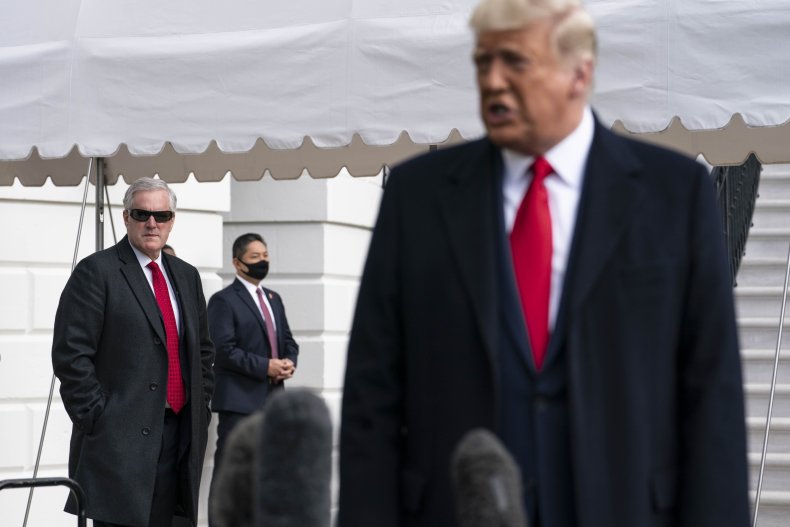 The former chief of staff told Willis at Monday's hearing that he did not want Trump to The 2020 "election campaign wins in some areas, then it doesn't apply". Let this" work.
Asked further why he didn't want that to happen, Meadows replied: "Well, because I know I'm going to get scolded if we don't." Strongly disagree.
"I think their defense attorneys were very concerned about this testimony," said Goodman, who appeared Friday on CNN's "Eileen Burnett on the Frontline." "It's bad for President Trump because it points the finger at him directly, saying 'If I don't do this, he's going to yell at me.'"
"This means that President Trump was directly involved in the sham electoral scheme," Goodman continued. "That's the evidence prosecutors need, and it shows President Trump's strong interest in it."
Several legal experts speculated that Meadows' decision to testify and be cross-examined may have been a risky move by the defendant. Goodman previously said the former chief of staff may have also perjured during his testimony, pointing to a recent filing by Willis stating that while Meadows told prosecutors he was not involved in a sham election scheme, " The defendant was forced to admit during cross-examination that he had in fact given instructions to a campaign official in this regard."
Goodman added in an interview with CNN that he expects the hearing to be as "scary" for Meadows as it was for the former president.
"His whole argument is based on … everything he does is within the government's purview of the chief of staff's office, but he puts it in his own words, 'The reason I'm doing this is to preserve a choice of the campaign,'" Goodman said.
"This is purely a campaign trying to win over election type issues," he added. "The federal government doesn't have any authority over that particular program."
Weekly newspaper Trump's campaign has been emailed for comment on Meadows' testimony.