EMS's IPO began on September 8 and closed on September 12. The issue size is approximately Rs 321 crore, of which Rs 146 crore is fresh issue and remaining offer for sale (OFS). Proceeds from the new issue will be used to meet the working capital requirements of the company. The shareholding ratio of the promoters and promoter group will decrease from 96.7% before the issue to 72.6% after the issue.
The company's core competencies are the processing of water supply, wastewater treatment and sewage treatment solution projects. The company bids on tenders issued by CPWD, state governments and urban local bodies (ULBs) on EPC or HAM basis.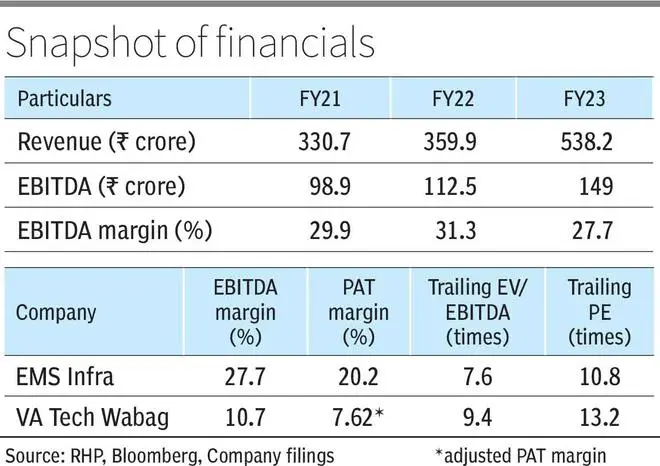 The price range of the issue is Rs 200-211, which implies a market capitalization of Rs 1,171.46 crore (at the higher price band). The trailing EV/EBITDA for fiscal year 2023 is 7.6 times, and the post-issuance trailing PE is 10.8 times. The company's listed peer is VA Tech WABAG, which trails EV/EBITDA of 9.37x and PE (adjusted EPS for fiscal 2023) of 13.2x. Investors can subscribe to the issue considering the reasonable valuation, sound financial position and government allocation for infrastructure projects. At the same time, it's best to make a limited investment in the stock given its small-cap nature.
Business

The company provides sewerage solutions, water supply systems, water and waste treatment plants, power transmission and distribution, roads and related works, wastewater treatment solutions projects (WWSP) and water supply solution projects (WSSP) to government authorities/institutions. WWSP includes sewage treatment plants (STP) as well as sewer network plans and common sewage treatment plants (CETP); WSSP includes water treatment plants (WTP) as well as pumping stations and laying of water supply pipelines. The company's sewage treatment plant complies with the specifications of the Ministry of Environment, Forest and Climate Change, and the treated water can be used in processing industries such as gardening, washing, and refrigeration.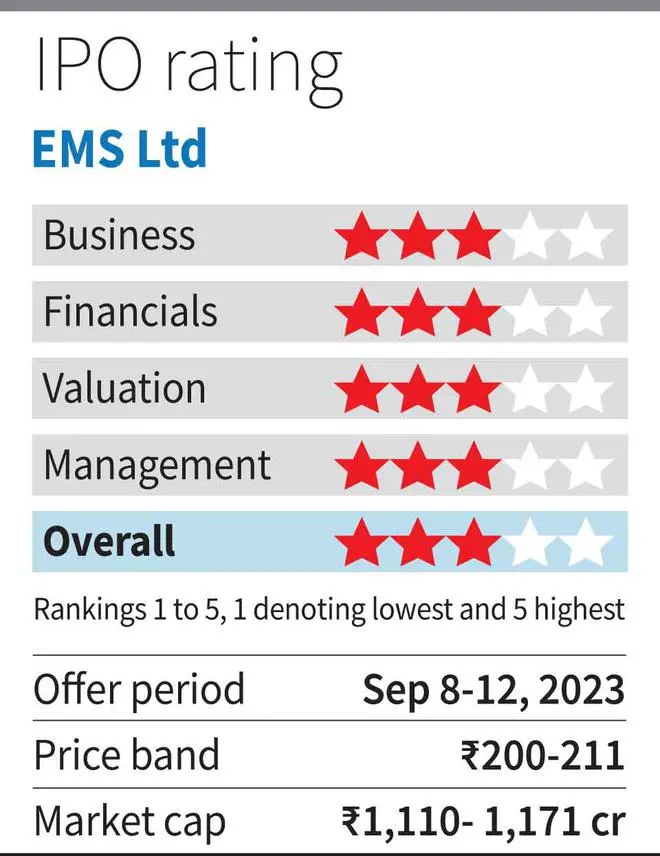 The company participated in the tenders issued by CPWD, state governments and ULB to develop WWSP and WSSP. It has an in-house design, engineering and construction team, as well as a team of 61 engineers supported by third-party consultants and industry experts.
The business is civil and construction and is vulnerable to commodity cycles i.e. price changes in metals, cement, petrol/diesel etc. However, the company's contract has a price increase clause, and the increased price may be passed on through lag.
Taking into account the smooth payment, EMS Infra prefers to bid for projects assisted by agencies such as the World Bank, Japan International Cooperation Agency or the central government. Additionally, it bids for projects with an EBITDA margin of at least 25%, which ranged from 27% to 31.5% in FY21-23.
Prospects/Order Book

The government's focus on infrastructure has increased over the past two Budgets. The allocation for the Ministry of Water Resources in the 2023-24 budget is Rs 20,054 crore, an increase of 43% over the previous year, and the allocation for the Jal Shakti Ministry is Rs 77,223 crore, an increase of 29% over the previous year. This bodes well for the company.
As of July 31, the total order book was approximately Rs 1,745 crore, of which 67% were sewage treatment projects, 4.7% were sewage and water supply projects, 4.8% were general sewage treatment plant projects, and the remaining 23% were construction projects. The order-to-bill ratio reached 3.24 times (based on FY23 revenue).
finance

Operating income in FY23 was 538.16 million rupees, a year-on-year increase of nearly 50%, EBITDA was 1.49 billion rupees, a year-on-year increase of 32.4%, and after-tax profit was 108.61%, a year-on-year increase of 37%. EBITDA margin for fiscal year 2023 was 27.69%, compared with 31.27% for fiscal year 2022. The decline in EBITDA margin appears to be primarily due to an increase in operating costs, which accounted for 76% of revenue in fiscal 2023 compared with 68% of revenue in fiscal 2022. The company is a net cash company with net cash of Rs 3,627 crore in FY23.