Someone posted on social media last week asking what was available in Gayasa as everyone they knew seemed to be buying or wanting to buy land in the area. Of course, what Ugandans call Gayaza today is actually miles away from Gayaza, although the town has always been famous, mainly for having one of the most famous high schools in the country. As Uganda's population grew, so did the towns around Gayasa.
It all started when real estate dealers called every town after Gayasa "Gayasa", hence "Gayasa Kalaji", "Gayasa Chirubwe" and even sometimes in Luwero Deep in the land of Kikusa is promoted "Gayasa Kikusa".
Unable to afford land in Kampala, many moved to what is today Greater Kampala (parts of Wakiso, Mpigi and Luwero regions). This is why areas considered Gayasa such as Busika, Kiwenda, Busukuma, Nakasaja, Dundu and Kalaji have attracted attention. Gayasa may be attracting the "middle class" who can tweet and use social media, but the expansion is across the board.
Could this expansion be better planned to get a better return on investment? Planning may not have to be done by the government as it may take a lot of time. Individuals investing in certain areas can learn a thing or two about how Kampala was originally created as a business hub.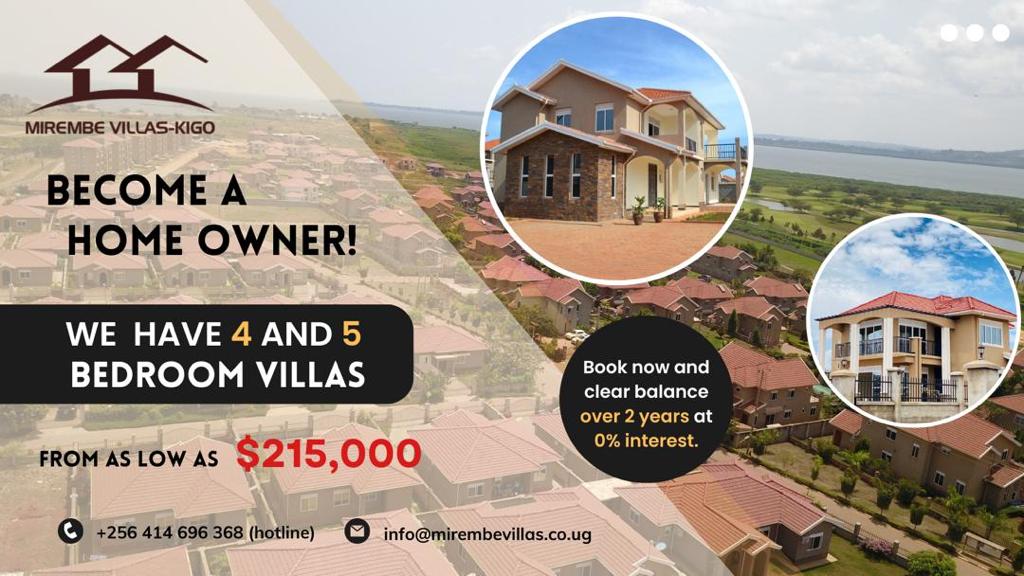 In the center of Kampala, a narrow street is famous for the trade of retailers buying goods. Due to the size of this street, the area was called Kikuubo. Every retailer and bargain hunter comes to this area from Uganda and beyond, making it the wholesale hub of the country and the region. Many other businesses such as restaurants, banks, foreign exchange dealers, law firms and shipping companies have also had to set up shop. Pickpockets also hit Kikubo, "telling people that Kampala is more than just buildings".
Some of the people who set up shop in Kikuubo some 30 years ago are now famous billionaires, benefiting from the influx of tourists arriving in the region every day as Uganda recovers from years of war that crippled the economy.
Eventually, larger buildings began to appear with some floors dedicated to selling something. If you want shoes, you can go to Discount Mall, if you want hair accessories or salon services, go to Gazzaland or Gaaliiya. If you like piles of old clothes, then you go to Kissenyi. Kisekka market is famous for car spare parts, while Katwe is famous for its craftsmen. Nasser Road and Nkrumah Road are famous for their printing shops and stationery shops respectively.
Some streets in Bugolobi and Kololo are becoming entertainment hubs, where young people party until dawn, hopping from one bar to another in the same location. For them, it's cheaper than moving from one place in Kampala to another in search of "vibe".
In cities like Dubai, people create areas specifically for specific items. Dubai Health Industry City. You will find many hospitals and senior medical consultants operating in the area. There are also other areas such as Dubai Internet City, Dubai Financial Center, and Dubai Media City.
Zoning a city in this way ensures that certain services are concentrated in one area, so people don't have to move from one place to another. You can turn a profit at Nasr Road when your job is just to stamp a serial number on a printed receipt or invoice. Whoever prints them will bring them to you to add the serial number. Another could have a paper shearing machine. So you will find many small businesses working together to produce big products.
The automotive industry, for example, operates in a similar way. Many independent parts manufacturers work together to produce at least 30,000 parts needed for vehicle functions, although these parts are not necessarily all in one place.
As Kampala expands, what should Gayaaza or Kakiri be known for to attract people to go there? Business centers allow regions to acquire expertise in certain areas while achieving large-scale economies. A business operating in one part of the value chain can move customers to another business in the same area so that they can create a single product.
Customers do not have to buy one part from Gayaza and then go to Mukono to buy another part. Many commercial buildings remain unoccupied because each store carries a different product that may not be available in sufficient quantities to attract enough customers to sustain. If you have a small shop selling corn or beans in Gayasa, traders may prefer to go to Chisenyi, where they can buy the quantities (and varieties) they need from several small shops. Can the business center model help Greater Kampala towns thrive?
The author is a communications and visibility consultant. djjuuko@gmail.com
Do you have a story or opinion from your community to share with us: please email editorial@watchdoguganda.com