Meghan Markle's interaction with a British schoolboy went viral on TikTok days before she quit the UK after he joked with her on stage: "She's really beautiful."
Ake Okoye, 16, kissed the Duchess of Sussex on the cheek after she invited a "brave young man" to take the stage to talk about International Women's Day.
The teenager at Robert Clark School in Dagenham, east London, caused laughter from his classmates in March 2020.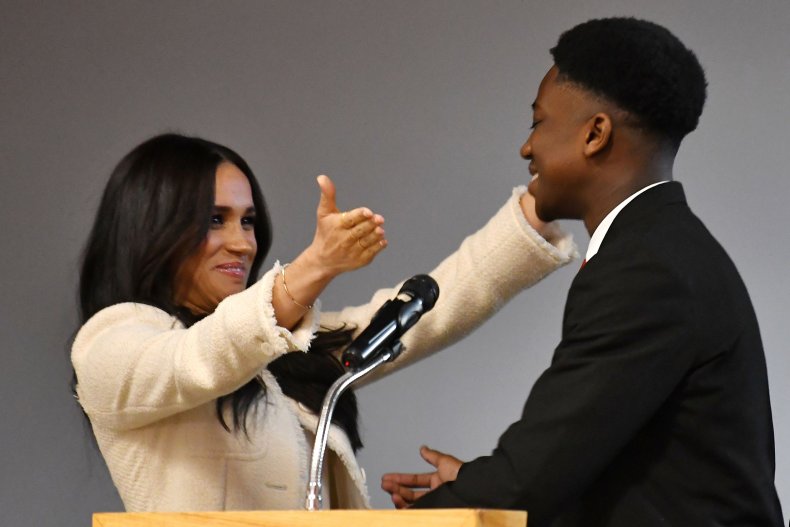 At the time, Meghan was days away from leaving the UK with Prince Harry to start a new life in the US following a breakdown in relations with the royal and royal family.
The video went viral after being posted on TikTok with the message: "I don't think anyone is going as well as this guy."
The post has been viewed 4 million times and garnered 434,000 likes, with one reply advising Okoye: "Read the room and understand the assignment quickly."
The moment sparked a wave of news coverage at the time, Okoye later told British newspapers Sunday sun: "I had to stand up. I thought, 'This day means a lot to me, and it would be an insult to me not to talk.'" My heart was racing. "
"There were rumors of a visit from a bigwig, but nobody expected Meghan," he added.
"It was incredible. She was lovely and down to earth. She didn't seem to mind me kissing her and saying she was beautiful. She laughed with the whole school."
He was a bit coy when he initially described the interaction to his father Eric Okoye, later telling the paper: "He casually told us Meghan had been to the school. He said she was very friendly and he gave a speech also.
"But he never told me he kissed her! I can't believe it. What a cheek. I hope he didn't get in trouble. Is she okay with this? I hope so."
Meghan showed no outward signs of discomfort as she delivered a speech on women's empowerment.
In her own speech, the Duchess told school pupils: "I just encourage and empower each of you to really stand up for your truth, stand up for what is right. Continue to respect each other.
"You young men, continue to value and appreciate the women in your life. And set an example for some men who don't see it that way.
"You have your mother, your sister, your girlfriend. Protect them. Make sure they feel valued and safe."
Jack Royston is Weekly newspaper, headquartered in London. You can find him on Twitter: @Jack Royston and read his story Weekly newspaperof Royals Facebook Page.
Do you have questions about King Charles III, William and Kate, Meghan and Harry or their family that you would like our experienced royal reporters to answer? Email Royals@newsweek.com. We'd love to hear from you.