Russia and Armenia have been friends for centuries. Armenia is a landlocked country with a severe geopolitical environment and is highly dependent on Russia for trade, political support and military assistance. Technically, the two countries are treaty allies and members of the Collective Security Treaty Organization (CSTO), the Russian-led equivalent of the U.S.-led North Atlantic Treaty Organization (NATO). Economically speaking, Russia's share of Armenia's total trade is approximately 26%, which is a considerable proportion.
However, a week of chaos in the disputed Nagorno-Karabakh region between Armenia and Azerbaijan threatens to undermine this long-standing bilateral relationship. Armenia is desperate and reeling after being bombarded by Azerbaijan's military assault on the enclave. Armenia's political leadership generally respects the Kremlin's allies, but they are increasingly uneasy about what they see as Russia's lack of support in the face of an aggressive neighbor.
Nagorno-Karabakh is perhaps one of the most notorious territorial disputes left over from the collapse of the Soviet Union. Although the enclave is surrounded by Azerbaijani territory, it has been governed by the Yerevan-backed Armenian government since the early 1990s. Azerbaijan, Armenia and Armenian-led separatist governments have clashed periodically over the past three decades over control of the region; numerous negotiations between Yerevan and Baku over a final status agreement have ended inconclusively. Azerbaijani forces regained much of the territory previously captured by Armenians in a 44-day war in 2020 and later agreed to a Russian-backed ceasefire maintained by about 1,900 Russian peacekeepers.
The only problem, at least from Armenia's perspective, is this: Those Russian peacekeepers didn't do their job very well, if at all. Despite the 2020 ceasefire, Azerbaijan has never given up its ambition to regain territory by force. In December, Azerbaijani supporters, allegedly backed by the Baku government, blocked the Lachin Corridor, the only transportation route connecting Nagorno-Karabakh to Armenia. Food, medicine and basic supplies have been cut off, and international rights groups such as Amnesty International have warned of a humanitarian catastrophe. Azerbaijanis accuse Armenians of using the corridor to deliver military aid to the territory; Armenians in turn accuse Azerbaijanis of hypocrisy.
It all came to a boil last week. After just days of fighting, Azerbaijani forces pushed back Russian peacekeepers stationed in the area and forced the region's under-equipped Armenian government to surrender. The operation was an impressive victory for Baku and an unmitigated disaster for Yerevan, which did not want to extend the war by sending Armenian troops to the rescue of its allies. Azerbaijani President Ilham Aliyev was ecstatic, boasting that his army had finally restored full sovereignty "with an iron fist." Meanwhile, Armenian Prime Minister Nikol Pashinyan is wondering what went wrong. In his view, Russia stabbed Armenia in the back. "The external security system in which Armenia participates is ineffective in protecting our security and Armenia's national interests," Pashinyan said in an address to the nation over the weekend.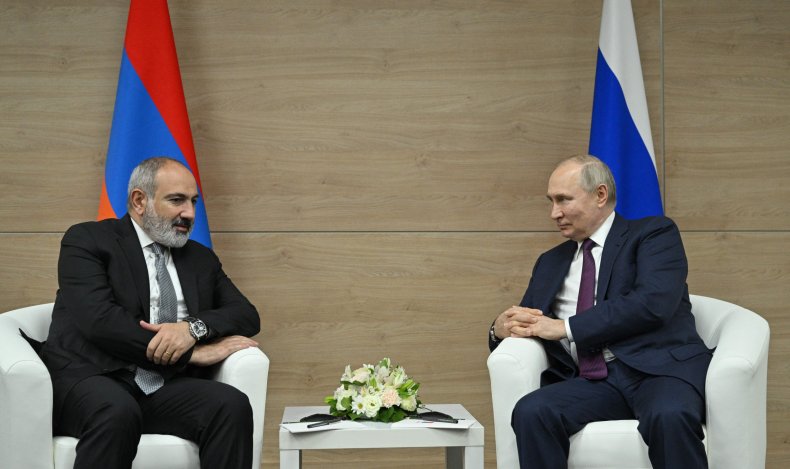 The message is clear: Armenia can no longer trust its historical ally Russia to do anything. Moscow immediately hit back, saying Pashinyan was trying to shirk responsibility for the local disaster. But the damage has been done. Russia-Armenia relations may continue, but they are unlikely to be what they once were.
This is not the first row between Yerevan and Moscow. The Armenian government has recently taken small but notable steps toward the West. Armenia is beginning to consider joining the Rome Statute of the International Criminal Court. While the move is undoubtedly linked to bringing war crimes charges against Azerbaijan, it will also cause concern in Moscow. After all, Russian President Vladimir Putin is currently a wanted fugitive, with the International Criminal Court issuing a warrant for his arrest last year. Assuming the Armenian parliament ratifies the Rome Statute (which remains a significant assumption), Putin will not be able to travel to Armenia again without risking arrest.
Although Armenia remains on the sidelines on the war in Ukraine, Yerevan has made it clear that it disapproves of Russia's approach. "We are not Russia's allies in the war with Ukraine," Pashinyan told reporters CNN in June. "What we felt from that war, from that conflict, was anxiety because it directly affected all our relations." Armenians have provided humanitarian aid to Ukrainians, and Pashinyan's wife has served as Ukraine's first At the invitation of Mrs. Olina Zelenska, she traveled to Kiev this month.
Earlier this month, the Armenian army also conducted a small military exercise with the US military, prompting the Russian government to summon the Armenian ambassador to Moscow for a reprimand. "Armenia's leadership has taken a series of unfriendly steps in recent days," the Russian Foreign Ministry said in a statement.
While it's too early to predict a breakdown in Russia-Armenia relations (the likelihood of a complete breakdown is low), you don't need to be an expert on the South Caucasus to see the connection between these two long-standing ties. Friends, the ice cubes are thinner, if not thinner. Armenia has viewed Russia in the past as its external protector, a country that provides support during emergencies and crises. The past two weeks have forced the Armenian government to reconsider this baseline assumption. Given Russia's ongoing trials and tribulations in Ukraine, and the Russian military's disinterest or inability to fulfill its responsibilities as an ally, you can't blame the Armenians for reassessing.
Daniel R. DePetris is a fellow at Defense First and a syndicated foreign affairs columnist for Defense Magazine. Chicago Tribune.
The views expressed in this article are the author's own.