Robert Otim
A good family is the basis on which a person can achieve economic productivity. Good housing improves the health and productivity of its occupants, thereby contributing to the country's economic growth. Yet some 1.8 billion people in urban centers around the world struggle to find decent and affordable housing.
Lack of affordable housing is a major driver of informal settlements. These areas are characterized by large populations, small and crowded housing, limited access to water and sanitation, and high vulnerability to disease and epidemics.
The need for affordable housing, especially in urban centers, is one of the biggest challenges facing Uganda due to its rapidly growing population. This, coupled with rising urban poverty and a lack of credit and financing options to take advantage of opportunities such as rental housing or mortgage-financed housing, drives the growth of informal settlements.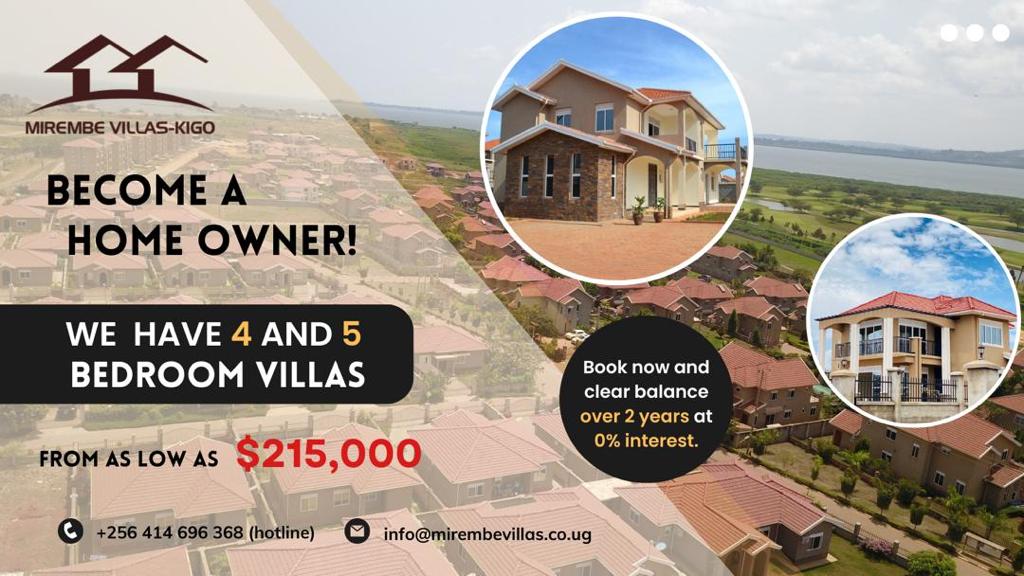 Land tenure issues also contribute to the proliferation of informal settlements. Many residents of informal settlements do not have secure land tenure, making them vulnerable to eviction and displacement. This uncertainty discourages investment in better housing and leads people to settle on uninhabited or contested land, leading to the growth of informal settlements.
Addressing the prevalence of informal settlements in Uganda requires a multifaceted approach, including affordable housing initiatives, improved urban planning, secure land tenure, poverty reduction strategies, inclusive economic development, government policies, community engagement and various Stakeholder collaboration to address this complex issue.
In 2008, the Ugandan government approved the National Slum Upgrading Strategy and Action Plan, which aims to slow down the growth of slums through legal and land market reforms, amend planning and zoning regulations, and ultimately stop the construction of new slums.
The policy also aims to provide land tenure security and building regulations to make housing more affordable for Ugandan citizens. The policy further provides for inclusivity, engaging all housing sector stakeholders to pool resources to support government in delivering affordable housing for Ugandans.
Organizations such as Habitat for Humanity Uganda (a housing organization dedicated to eradicating housing poverty in Uganda) have repeatedly responded to government calls, working with government entities, private sector partners and communities to find innovative ways to provide affordable and decent housing. Housing for Ugandans.
Earlier this year, the organization, together with the Ministry of Land, Housing and Urban Development (MLHUD), launched Home Equals, a five-year advocacy campaign dedicated to achieving policy change at all levels to ensure that people living in the informal People in settlements have equitable access to adequate housing.
The Homelands Equality campaign advocates for greater engagement with settlers in informal settlements, the delivery of quality services and improved land governance and leadership in local government land boards.
This campaign, along with other initiatives, is a step towards addressing affordability challenges in the housing sector by providing a platform and foundation for wider development opportunities that contribute to the well-being of humanity and the country at large.
Investing in affordable housing initiatives in urban informal settlements can create jobs for the workforce, which not only alleviates poverty but also stimulates economic growth by generating income for individuals and local businesses.
During World Habitat Day this October, MLHUD and Habitat for Humanity Uganda will host the second annual Uganda Housing Symposium at the Mestil Hotel in Kampala with the theme: Affordable Housing in Urban Informal Settlements as Economic Growth the driving force.
The workshop will seek solutions to make affordable housing projects a catalyst for microenterprise development in urban informal settlements. As new housing units are built, demand for local goods and services increases. This provides opportunities for small businesses to thrive, providing goods and services such as building materials, plumbing, electrical and household goods. By supporting these micro-enterprises, local economies are strengthened, creating a ripple effect of economic growth.
Access to affordable housing in urban informal settlements directly impacts residents' health and educational outcomes. Adequate housing provides a safe and healthy living environment, reduces the prevalence of disease and improves overall well-being. Additionally, children who live in stable housing are more likely to attend school regularly, leading to better educational outcomes. Investing in affordable housing not only improves living conditions, it also helps create a healthier, better-educated workforce, which is critical to economic growth.
Affordable housing initiatives can be a catalyst for infrastructure development in urban informal settlements. As housing projects are implemented, there is a need to improve road networks, water and sanitation facilities, and electricity supply. These infrastructure improvements not only improve the quality of life for residents but also attract future investment and economic activity to the area.
The author is Country Director of Habitat for Humanity Uganda. noffice@hfhuganda.org
Have a story or opinion from your community to share with us: please email editorial@watchdoguganda.com